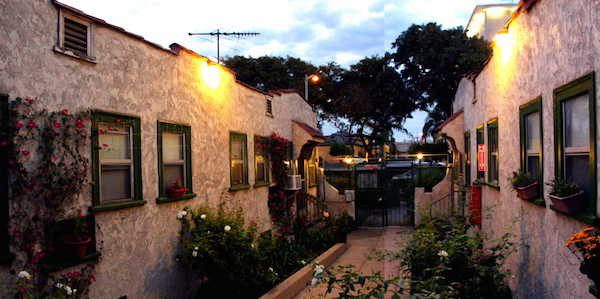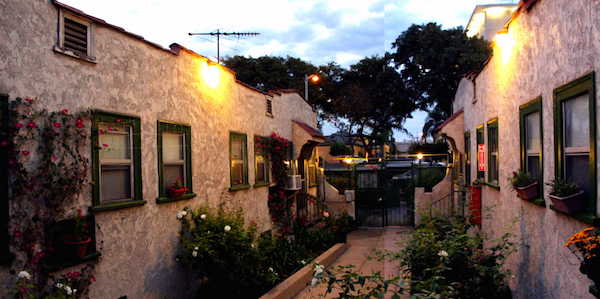 A controversy over plans by the West Hollywood Community Housing Corporation (WHCHC) to evict 11 residents of the Detroit Bungalows has brought into focus problems faced by aging city residents who want to remain in their homes.
Those problems will be the subject of a public meeting the city will hold in April or May as part of an effort to enable older residents to "age in place" with the services and support required to make that possible.
The city has engaged Sadlon & Associates, a consulting firm, to develop an "aging in place" strategic plan. That effort includes the formation of a steering committee with representatives from city departments and divisions such as Rent Stabilization and Housing, Social Services, Recreation, Facilities, Long Range and Mobility Planning, Current and Historic Preservation Planning, and Arts and Economic Development. Attending the special meeting, which will be open to the public and held on a Saturday, will be members of the city's Human Services Commission a delegate from each of the city's Planning, Public Facilities, Public Safety, Rent Stabilization and Transportation commissions and the Disabilities, Lesbian and Gay, Russian, Senior, Transgender and Women's advisory boards.
As of the 2010 U.S. Census, 26 percent of the city's population is composed of seniors, which the city defines as those 55 or older, roughly the same percentage as in 2010. But the percentage of "young" seniors (those ages 55 to 64) has increased 2.3 percent over that same period. Fifteen percent of West Hollywood residents are 65 or older.
A study commissioned as part of the city's Eastside Community Plan found lower than average incomes and high rents in that part of West Hollywood, traditionally home to many of the area's seniors. In that area, studio-unit rents now range from $1,300 in rent-controlled units to $2,500 in the new market-rate buildings opening there and under construction. Those higher rents may be a factor in the growth of the young professional population there (25- 44-years-old) and a decline in the number of those 65 and older.
The city's 2013 Community Survey found that 94 percent of seniors, which it defined as those 65 years old and older, have lived in West Hollywood for 10 years or more. Eighty-seven percent have lived in their current homes for 10 years or more. A third of seniors rent their homes, which makes them vulnerable to rent increases.
WHCHC borrowed $1 million from the City of West Hollywood in December that it will use to close on the purchase of the property at 1123 and 1127 N. Detroit St. with the intention of combining it with the Detroit Bungalows site next door. The Detroit Bungalows now is owned and managed by WHCHC, a non-profit organization that builds and rehabilitates housing for low-income and other disadvantaged people. Robin Conerly, WHCHC's executive director, said the organization hopes to build a 22-unit building for people living with HIV, homeless young people, the mentally ill and those with other special needs. Conerly said WHCHC hopes to engage the L.A. LGBT Center to help provide services to the tenants. In essence, WHCHC will shift the population of the property to focus on LGBT people.
Residents of the Detroit Bungalows have mounted a campaign to stop the eviction. According to Dr. Love, a resident of Detroit Bungalows who is leading the opposition, the current 11 residents include a disabled women with a 16-year-old autistic child, a senior citizen who has lived here for 40 years and has been in and out if the hospital this month, a couple who have HIV and hepatitis C issues, military veterans and a young man whose health issues are so severe that he must wear a life alert button at all times.
Conerly said the WHCHC will compensate those evicted from the property and consider letting them move back into the new building when it is completed. But Dr. Love, who prefers not to use her first name, objected that it will be difficult for the residents to find new housing and to make such a move, given their existing conditions.
Among those who have spoken out against the WHCHC plan are City Council candidates John Allendorfer, Larry Block and Lauren Meister.
"Our city and WHCHC need to set an example for 'aging in place' and allow the residents of the Detroit Bungalows to do just that, in their homes that they expected to be in for the rest of their lives," Meister said in a post on WEHOville. "WHCHC, don't claim to provide affordable housing and then kick out the residents who counted on you for their affordable housing. It's just plain wrong."
"What is unacceptable is a city that touts 'aging in place' and then evicts poor and disabled persons," said Block in a post on WEHOville.
"The Detroit Bungalows are close by to the Monarch Essex housing complex and some other future housing to be constructed next door," Allendorfer said.  "I believe there should be a balance of housing in this situation, maybe preserving what works and is livable for the residents of the Detroit Bungalows and coexisting with the newly construction that has taken place already over recent years including the Gateway West Target shopping development."