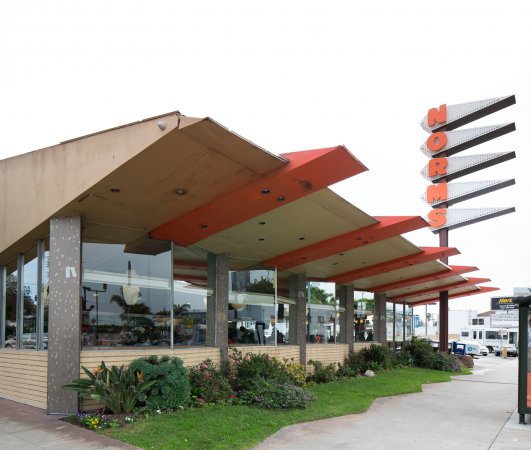 The new owner of Norm's Restaurant on La Cienega Boulevard, one of the few remaining examples in the West Hollywood area of Googie architecture, has received a permit to demolish it.
The Los Angeles Conservancy alerted its members to the permit with a posting on its website today. The new owner of Norms, which includes 18 restaurants in Southern California, is Jim Balis. Balis, who is based in Idaho, is CEO of Restaurant Management Group, which bills itself as a firm devoted to restructuring existing restaurant businesses.
Balis purchased Norms last year from the Roybark family. Norm Roybark, a Los Angeles native, opened the first Norms in 1949 near the intersection of Sunset Boulevard and Vine.
The Norms at 470 N. La Cienega, just south of Melrose, was designed by architects Louis Armet and Eldon Davis and opened in 1957. The L.A. Conservancy says "Norms La Cienega is an exuberant example of the California coffee shop type and an expressive Googie masterwork. "
The eccentric Googie style takes its name from a coffee shop called Googie that was at the intersection of Sunset and Crescent Heights boulevards in the 1950s. Today, in addition to Norms, a major example of the Googie style is Mel's Diner at 8585 Sunset Blvd. just west of Londonderry Place in West Hollywood.
The L.A. Cultural Heritage Commission is set to meet tomorrow and consider whether to recommend tbat Norms by designated a historic/cultural monument. According to the L.A. Conservancy, such a designation would prevent Balis from demolishing the building without securing the permission of the Los Angeles City Council.