The West Hollywood Community Housing Corporation (WHCHC) has reached out to residents of the Detroit Bungalows to assure them that they will not be permanently evicted.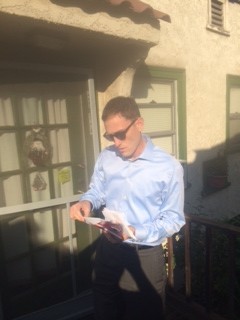 In a letter delivered to residents of the 8 bungalow units, which are on Detroit Street between Lexington Avenue and Santa Monica Boulevard, WHCHC's director of real estate development, Jesse Slansky, said: "You are not being evicted. If a project is approved by the city, everyone will be relocated temporarily, and only if you so choose, permanently."
"You will have first preference for a unit at the new building," Slansky said in the letter. "If you have a qualifying disability, there is a high likelihood your future rent will be lower than what it is now.
"A relocation consultant will help you, if you like, to identify a variety of options for temporary housing. We are also looking into the possibility of providing units together in one building, if that is an option you would prefer.
"You will be entitled to generous monetary relocation benefits. These are based on your income, and the relocation consultant will work with you on a one-on-one basis to calculate your benefits package. Returning to the new building will not impact your benefits calculation."
Slansky also offered an apology from WHCHC for not communicating with the residents about the redevelopment project earlier.
In December WHCHC, a non-profit organization whose mission is providing affordable housing for low-income, elderly and disabled people, purchased a lot at 1123 and 1127 Detroit St. It plans to demolish the Detroit Bungalows and the building on the newly purchased lot and build a 22- to 66-unit building. Slansky said WHCHC is still studying its options. In an interview with WEHOville last week, Robin Conerly, WHCHC's executive director, said the organization would need additional funding beyond the $1 million loan to it by the city of West Hollywood for the project.
Visits to the bungalows and the lot next door by people doing soil sampling raised an alarm among the 11 bungalow residents. Dr. Pamela Love, one of those residents, organized an online campaign in opposition to the proposed demolition.
The campaign has gotten attention from some candidates in the March 3 race for West Hollywood City Council, with John Allendorfer, Lauren Meister and Larry Block visiting the bungalows to meet with the residents
In his letter Slansky said WHCHC has no choice but to replace the bungalows, which were built in the 1920s, because of the cost of maintaining them. "We know you love your home," he wrote. "But because of its age, very small size, very low rents and increasing need and requests for maintenance and beautification, the bungalows are operating at a loss. Unfortunately, the status quo is unsustainable."