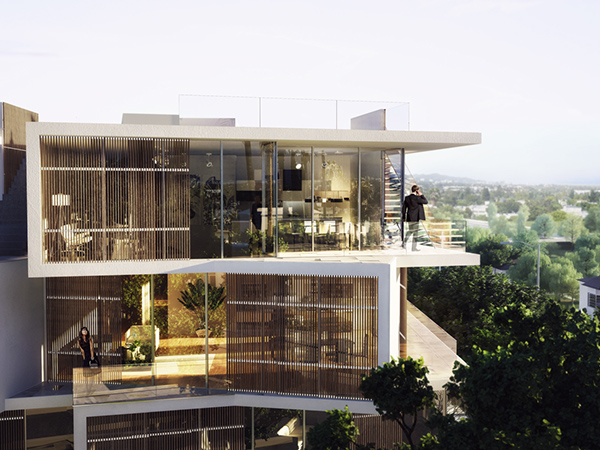 A condominium building proposed for 702-714 N. Doheny Dr. won the unanimous endorsement of the West Hollywood Planning Commission last night.
The building, which will include 38 condominiums and 12 apartments to be rented to low-income tenants, would be built on a largely empty 1.2 acre site perhaps best known as the location of Mr. Bones Pumpkin Patch at Halloween and the Mr. Greentrees Christmas tree lot.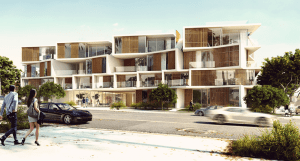 In her positive evaluation of the project, Stephanie Reich, the city's urban designer, said it "will enhance the pedestrian environment along Doheny Drive and on Harland Avenue and Keith Avenue as well. Along Doheny drive there is street tree and parkway planting, planting in the front setback and private patios that are screened for privacy, yet open enough to provide a sense of activity along the street."
The project is designed by R&A Design of Culver City, whose principals are Christian Robert and Benjamin Anderson.
The project was praised by most of its West Hollywood neighbors. However several residents of Beverly Hills on the west side of Doheny spoke against it before the Planning Commission, citing their concerns that it would increase traffic on Doheny. Barry Blumberg, who lives on Oakhurst Drive in Beverly Hills, said he also was concerned that the height of the building, which varies between three and four stories, would mean an invasion of the privacy of its neighbors.
Those who spoke in favor of the project called out developer Jason Illoulian's outreach to its neighbors to engage them in the process. "It's so nice to have a developer who does live in West Hollywood, who isn't from Malibu," Stephanie Harker said of Illoulian.
Harker and others also praised Illoulian for granting access to all of the buildings amenities to its low-income tenants. Developers of the proposed 8899 Beverly Blvd. project came under attack when it was revealed that they weren't going to let low-income tenants use the project's swimming pool, a decision they changed. Developers add low-income units to their buildings in order to get certain concessions from the city, such as the right to build a multi-unit building in an area zoned for single-family houses or to build a building with a larger floor to land ratio that is permitted by existing zoning codes.
The Doheny project's 12 low-income apartments will be managed by the West Hollywood Community Housing Corp., which will be given ownership of them. Illoulian also has agreed to waive monthly homeowner association fees for those units in perpetuity.
The project now will go before the West Hollywood City Council for final approval before construction can begin.