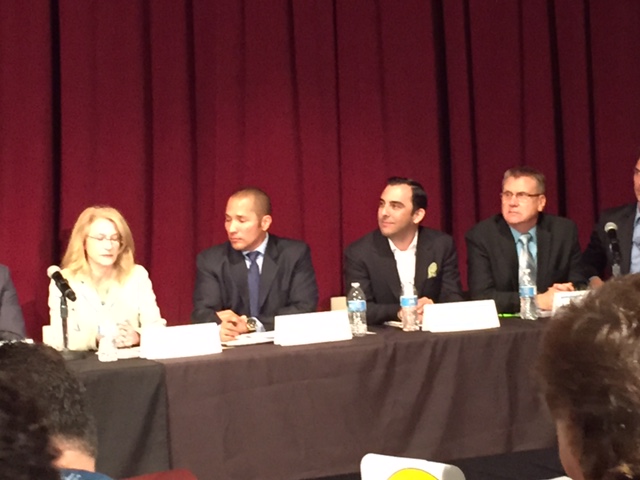 Twelve candidates for three City Council seats. Pretty much anyone in West Hollywood can run for City Council. All it takes is getting 20 registered voters to sign a petition supporting your candidacy.
That may seem like a wonderful example of democracy at work. But in practice it means a diffusion of the already small number of votes cast in City Council elections — 5,303 in the 2013 City Council election —  only 20 percent of registered voters. And it makes it difficult for voters to focus on the candidates that really matter.
Nowhere was that clearer than in Saturday's City Council "debate" sponsored by the West Hollywood Chamber of Commerce and the L.A. League of Women Voters. Twelve candidates had a total of 120 minutes — that's no more than 10 minutes each — to introduce themselves and address several questions raised by the moderator, a well-groomed television personality with little connection to West Hollywood and its issues, and also questions solicited from the audience. Time and again, as a candidate began to offer a substantive answer, he or she was cut off. It was more like a TV game show than a real debate.
But the problem was more than the qualifications of the moderator. The problem was the number of candidates, and that anyone can run for City Council. A city with a little more than 34,000 residents and 26,000 registered voters should raise the bar for Council candidates. A requirement that a prospective candidate present at least 500 signatures of registered voters supporting his or her candidacy would be a great way to start. A candidate who is able to garner that many signatures is likely to be a candidate who is engaged in the community, not simply someone able to ask two or three friends to ask neighbors or roommates to sign a supporting petition.
On a national level, the qualification is the ability to raise lots of money. In a city as small in population and as geographically compact as West Hollywood that also matters. But if the City Council ever summons up the courage to enact campaign finance reform, money may well diminish as a qualification (although it never will disappear). It would be great if voter support replaces it.