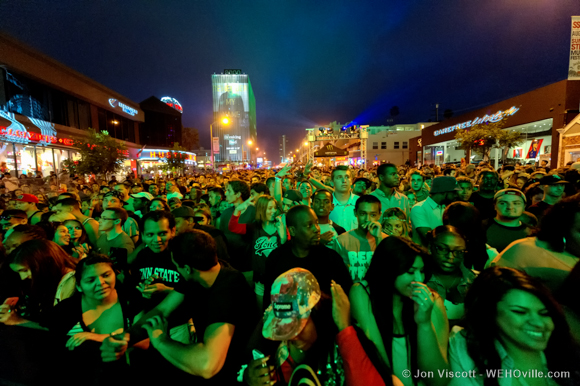 Last Fall's Sunset Strip Music Festival posted losses triple those of the year before according to financials provided to the City of West Hollywood. The festival, an annual event of the Sunset Strip Business Association (SSBA), lost $1.045 million.
Previous losses of $350,000 in 2013 and $432,000 in 2012 had led the West Hollywood City Council to consider putting the 2014 event on hiatus. But at a meeting in April the Council supported a proposal by the SSBA to move the event from August to September and engage an outside contractor, the Nederlander Organization, to manage the event. Under the proposal Nederlander was to receive 25 percent of revenue associated with the event.
The festival, which began in 2008 as a celebration of Sunset Boulevard's role in rock music history, is staged each year by the Sunset Strip Business Association. The association is funded by a fee levied on business members along The Strip that are its members. A report last year said that over time the city has spent $540,000 to cover expenses related to police and fire services and erection of street barricades and has waived $46,400 in fees. The Council agreed in April that the SSBA would reimburse the city for the $125,000 in expenses it incurred related to the 2014 event.
The 2014 festival drew criticism from area residents and some City Council members because of its noise. Some residents said it caused their windows and walls to rattle and one told the City Council he had to leave his home for the weekend because of the sound.
"I too heard the thumping all day for two days," said Councilmember John Duran, who lives on Harratt Street near Sunset Boulevard, during the September Council meeting. "I think we fell down on the job … We contracted with Nederlander (and) it looks like we failed on community development and community interests. That won't happen again."
"When I saw how close that stage was (to residential buildings), I was horrified," Councilmember John Heilman said at the Council meeting. "We really haven't had the same level of complaints in the past as we have this year. There are certainly things that need to be changed as we go forward, if we go forward."
The Festival also suffered from poor attendance. The Orange County Register described the Festival's Saturday attendance as "seriously depressing" until the performance of headliner "Jane's Addiction."
The festival's financial information will be presented to the City Council at a future meeting. Todd Steadman, SSBA executive director, has not responded to requests from WEHOville for comment on the music festival.