The recent drama among West Hollywood City Council member deputies has led to one of them being placed on administrative leave.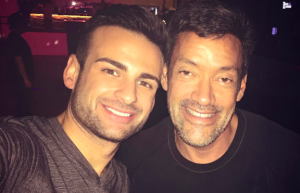 Ian Owens, deputy to Councilmember John Duran, was placed on leave last Monday while the city investigates allegations that he spied on Fran Solomon, deputy to Councilmember John Heilman, and that he is the source of reports that she solicited people to participate in a photo shoot for Heilman's re-election campaign from her city office. Owens prepared a document purporting to justify his allegations using city software, and thus apparently was produced from his city office. The document includes quotes purportedly from Solomon's telephone conversations, leading her to wonder if her office was being bugged. That document was emailed to numerous email accounts, including that of WEHOville, by someone using the name Matthew Mills.
While Owens is out, Duran is being assisted by Bobby Safikhani. Solomon currently is out because of illness, leaving John Erickson as Heilman's interim assistant. City officials declined to comment on Owens' leave, noting that city personnel actions are private and confidential. Councilmember John Duran also declined to comment, citing the same reason.
The full time deputy system is not common in Los Angeles County. In West Hollywood the jobs are quite lucrative, with Council deputies making between $100,000 and $137,000 a year according to figures posted on the state Controller's Office website. The $137,000 salary comes with $38,294 in health and retirement benefits. The five Council deputies also have their own employee union.
In Los Angeles County, city council members in Compton, which has a population of 96,000, have full time deputies that are paid $47,568 a year. In Inglewood, whose population is roughly 111,000, city council members represent specific districts and each has an assistant who is paid between $21,000 and $50,000. In Pasadena, a city of 140,000 where council members also represent districts, each has a field district representative hired directly by the council member rather than by the city. Perhaps the most relevant comparison is Beverly Hills, a city with roughly the same population as West Hollywood's 34,500 residents. As is the case in West Hollywood, members of the Beverly Hills City Council also hold other full time jobs. But unlike West Hollywood, there is only one full-time assistant assigned to the Beverly Hills City Council. The salary range for that position is $52,283 to $64,543.
Several of the West Hollywood City Council deputies are known for not getting along with one another. City Hall insiders note that several of them routinely arrive to work as late as 11 a.m. and leave work early. And residents occasionally complain at City Council meetings that deputies do not respond to their inquiries. While the deputies technically are supervised by City Manager Paul Arevalo, his ability to manage the deputies is constrained by the fact that they are chosen by the individual Council members, to whom Arevalo reports.