What will a seat on the West Hollywood City Council cost this year? As of Jan. 17, the average spending for one of the three seats available in the March 3 election is $70,398. But given the City Council's decision in 2013 to extend the period for fundraising to many months after the actual election, the eventual figure is likely to be substantially higher.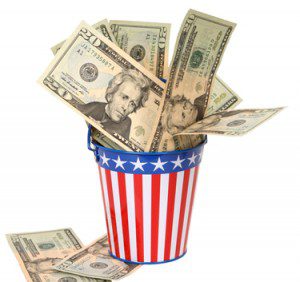 The fundraising average as of Jan. 17 is based on documents filed in the last few days with the City Clerk. WEHOville is still analyzing the actual source of the contributions, which is not evident from the public filings. That's because many donors don't identify themselves in a way that makes it easy to determine what business or interest group they are associated with. For example, a "homemaker" in a small town in Utah might well be associated with a billboard company trying to get the Council to bless a project it proposes for Sunset Boulevard.
What's noteworthy about the latest calculation of contributions?
1) The biggest recipient of contributions is Mayor John D'Amico, with a total of $85,575 raised through Jan. 17. He is followed by Lauren Meister with $45,019. Councilmember John Heilman is third with $38,500, followed by Joe Guardarrama ($$34,987), Lindsey Horvath ($31,764), James "Duke" Mason ($21,416) and Larry Block ($17,816). Block's contributions include a $10,000 loan he made to himself. Christopher Landavazo reported total contributions of $5,000 in the form of a loan he made to himself. Candidates John Allendorfer, Matt Ralston and Tristan Schukraft have reported no donations.
2) Two independent expenditure committees have emerged. One, Friends of West Hollywood, which bills itself as supporting D'Amico, Guardarrama, Heilman and Horvath, has dramatically increased its cash in the bank with a contribution of $10,000 last Thursday from Excel Property Management. That brings its total to $32,750, with contributions from several developers including Townscape Partners, the developers of controversial projects at 8899 Beverly Blvd. and at 8150 Sunset Blvd., and
A newly emerged independent expenditure committee, Neighbors for a Better West Hollywood, is funded with $40,000 from Bill Resnick, a resident of Westmount Drive. As of Jan. 31, the committee had spent $3,220 on behalf of Lauren Meister. Such committees are not supposed to coordinate their planning or spending with candidates they support.
3) The candidates who, as of Jan. 17, had the most money in the bank were D'Amico, with $47,212, followed by Meister ($23,722), Heilman ($23,376), Guardarrama ($23,065), Block ($13,382), Mason ($4,347), Horvath ($2,741) and Landavazo ($4,808).
Contributions in the 2013 City Council election, when two seats were open, totaled $422,000, or $211,000 per seat. That was a major increase from the 2011 election, when an average of $140,000 was spent on each seat. Typically, significant additional donations flow after the election to those elected to the Council from those wanting to curry favor with Council members. Council members with cash left over in their officeholder accounts sometimes use that to make donations to influential charities and political organizations, some of whose board members contribute to their election campaigns.
EDITOR'S NOTE:  A previous version of this story erred in stating that Larry Block had not yet filed a report of campaign contributions received from June 30 to Dec. 31, 2014.  That report was filed. WEHOville regrets the error.