Nearly two-thirds of $330,000 contributed to candidates in the March 3 West Hollywood City Council election has come from businesses or individuals outside of West Hollywood according to an analysis of donations by WEHOville. And roughly a third of all donations have come from real estate interests.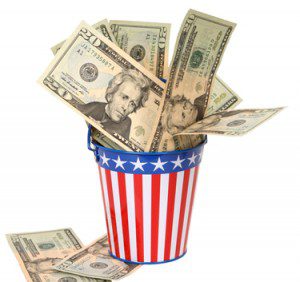 The analysis, funded by WEHOville's "Who Owns WeHo" Kickstarter campaign, looked at all donations to individual candidates through Jan. 17, 2015 (the latest date for which campaign finance filings are required) plus donations for so-called "independent expenditure committees" (IE).
Mayor John D'Amico received the most money, with donations of $102,000. He is followed by Lauren Meister, with $85,000 in contributions, $40,000 of which come from an IE established by Bill Resnick, a psychiatrist and philanthropist who lives on Westmount Drive. Trailing behind them are challengers Joe Guardarrama and Lindsey Horvath, with $49,000 and $46,000 respectively, and Councilmember John Heilman, with $49,000. Challengers John Allendorfer, Brian Funnagan, Christopher Landavazo and Tristan Schukraft have reported no donations. Candidates address campaign finance issues today in another story on WEHOville.
What follows are some questions voters are likely to ask and the answers we've come up with. Feel free to submit other questions in comments to this story and we will answer them if we can.
Q. Who is the biggest recipient of real estate dollars?
A. Mayor John D'Amico. Our calculations show he has received $37,000 from real estate interests, which equals roughly 36 percent of his total donations reported to date. (In calculating that, we allocated to him a quarter of the $53,000 donated by real estate interests to an IE whose expressed intention is to support D'Amico and candidates Joe Guardarrama, John Heilman and Lindsey Horvath).
Q. Who are other major recipients of real estate contributions?
A. John Heilman comes in second to D'Amico, with 19 percent of his donations coming from real estate interests, followed by Joe Guardarrama (16 percent), Lindsey Horvath (14 percent), Lauren Meister (8 percent), Larry Block (one percent) and James "Duke" Mason (less than half of 1 percent).
Q. Which real estate interests made the largest donations, and to who?
A. Townscape Management, the Beverly Hills-based developer of the controversial 8899 Beverly Blvd. and 8150 Sunset Blvd. projects and its owners are the largest real estate donors, having bet $12,450 on the Council race.
Townscape has donated $9,950 to the IE supporting D'Amico et al. Tyler Siegel has donated $500 to Guardarrama, and John Irwin has donated $500 each to Guardarrama and Heilman.
Tied for second are Excel Property Management and BMB Investments (and its owner), each of which has donated $11,000. Excel donated $10,000 to the IE supporting D'Amico, Guardarrama, Heilman and Horvath and $500 each to D'Amico and Guardarrama. Excel is owned by Arman Abady's Charles Company which is building the Melrose Triangle complex in an area bounded Melrose Avenue, Almont Drive and Santa Monica Boulevard. BMB donated $10,000 to the same IE. Its owner, Benjamin Solemani, also donated $500 each to D'Amico and Guardarrama
Other real estate interests who made significant donations are members of the Mani family, seven of whom made the maximum individual donation of $500 to Heilman and Horvath, for a total of $5,500. Mani Brothers is a major real estate owner whose properties include the 9000 Sunset office building, the Sunset Medical Tower at 9201 Sunset Blvd. and Piazza del Sol at 8439 Sunset. Five members of the Soroudi family, whose interests include the Ruby Group and Holloway Partners, made the maximum individual donations to John Heilman for a total of $3,500.
Q. How does WEHOville define "real estate interests"?
A. In our calculations we included real estate developers, those who identified themselves as major property owners, architects working on projects now under construction or being considered for approval by the city and lawyers focused on real estate, such as those from Latham & Watkins, who have donated $5,000 to various candidates.
Q. What other major interest group is funding the City Council campaigns?
A. No group comes close to real estate interests. Attorneys, many of whom represent clients who bring business before the City Council, have donated $17,000. Politicians, including the candidates themselves, have donated $9,000. Lobbyists have donated $7,000, and billboard companies and their owners and employees have donated $5,000. City vendors identified by WEHOville have donated $2,000, $1,000 of that coming from Gary Minzer, owner of Hollywood Tow Service, which has a contract with the city to tow illegally parked cars. Minzer gave $500 each to D'Amico and Horvath. Bikes and Hikes and its owner, Danny Roman, gave $500 each to D'Amico and Heilman. At its Dec. 15 meeting, the Council appropriated $46,000 to Bikes and Hikes to provide 10 bicycles to city employees. Only Councilmember John Duran recused himself from that vote, noting that he had received a contribution from Roman for his L.A. County supervisor campaign.
Q. Which candidates are the biggest recipients of donations from people who neither live in nor own a business in West Hollywood?
A. Mayor D'Amico is first, with $69,000 in donations from outside West Hollywood, which equals 71 percent of his total donations. He is followed by challenger Joe Guardarrama, with donations of $30,000 (62 percent of his total). Councilmember John Heilman and challenger Lindsey Horvath pretty much tie for third place, with $28,000 and $27,000 respectively (60 and 61 percent of their total donations). James "Duke" Mason reports $17,000 (88 percent) of his donations come from outside WeHo and Lauren Meister reports that $11,000 (24 percent) of her donations are from outside the city. Ten thousand dollars (or 40 percent) of Larry Block's donations are from outside WeHo.
Q. Do any donors or donor categories stand out for any reason?
A. Well, marijuana vendors seem to be taking an interest in this Council race, with total donations of $2,000. Of that, $1,000 went to Guardarrama and $500 each to D'Amico and Meister. One donor, Green Cross of Southern California, a marijuana collective, had its $500 donation returned by the D'Amico campaign.
And four city employees donated. Michelle Rex, the deputy to D'Amico, contributed $450 to his campaign. Brendan Rome, an "administrative specialist," contributed $500 to the D'Amico campaign and Mike Gerle, who abandoned his own race for the Council last year, donated $100. John Erickson, the temporary deputy to John Heilman and formerly the temporary deputy to Councilmember Abbe Land, donated $250 to Horvath.
Q. How does WEHOville do its analysis of campaign contributions?
A. Figuring out who really is donating isn't very easy, despite a City Council member's recent statement that any resident can go onto the city's website and download a copy of the donation reports to find out what's going on.
First we have to transcribe information about each of those hundreds of donors into a database. That allows us to sort the donors by name, interest group and candidate. Then we do a check for errors. It's very common for donors to be listed as residents of Los Angeles when, in fact, they are residents of West Hollywood. We check the addresses to be sure. And we note errors in campaign filings, which will account for minor differences sometimes in what we report and what the candidate reports. For example, we assume there's an error if one of two adjacent listings show the same donor giving $500 on the same day to the same candidate. That would be a violation of donor limits.
The fun part is doing the research to find out the donors' connections. The homemaker in New York City who donated $500 each to Joe Guardarrama and John D'Amico is the wife of the co-owner of the Denihan Hospitality Group, which plans to build the James Hotel in West Hollywood. So we assume, given her distance from WeHo and her closeness to her husband, that she falls into the real estate developer's "hotel" subcategory. The "homemaker" in Murray, UT, who gave $500 to Joe Guardarrama's campaign, has a connection with a billboard company, so we put her donation in that category.
Q. Who made this analysis of West Hollywood City Council campaign donations possible?
A. You did! The readers of WEHOville (who for the most part are residents of West Hollywood) donated $5,000 to a Kickstarter campaign we launched last year called "Who Owns WeHo." The goal was to raise the money we needed to get the files transcribed (the boring work) and then figure out who the donors really are (the difficult and time-consuming  work). WEHOville couldn't have done it without you, and we'll update the data as future donation reports are made public.  Please submit any additional questions you have about donations as a comment to this story.  If we have the information, we will answer them.