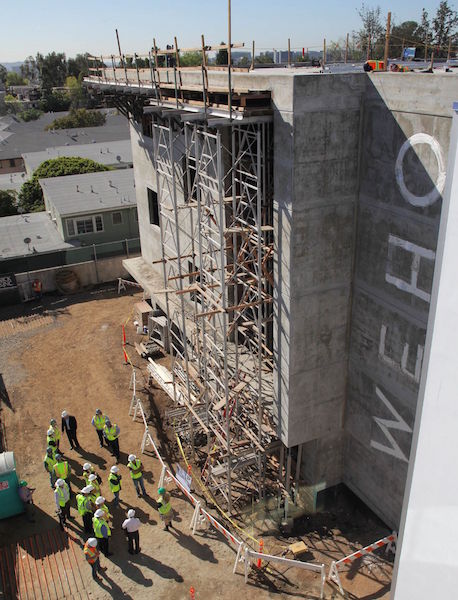 West Hollywood hosted a topping off ceremony for its automated parking structure today that brought residents and local officials out to sign a steel beam and get a close-up look at the building.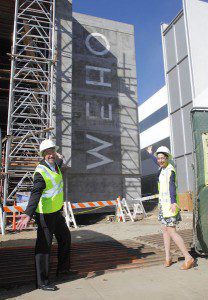 Councilmember Abbe Land, addressing those attending, said the $18 million structure and adjacent courtyard, which sit behind City Hall at Santa Monica Boulevard at Sweetzer, should be completed in 10 months.
Councilmember John Duran spoke to questions some have raised about why the city would spend so much money on a 200-space structure and why it would invest in a technical parking system that some cynics feel will break down.
" The middle of the city has always been very challenging," Duran said. He noted that on the city's Westside there is West Hollywood Park, an open area where the city was able to build a five-story parking structure. And on the Eastside is Plummer Park, which has two surface parking lots. But in the city's center, Duran said, Santa Monica Boulevard is lined with businesses with neighborhoods behind them, none of which residents would like to see replaced by a parking structure. For that reason the city decided to erect the structure in the parking lot behind City Hall previously used by city employees that had only 66 spaces.
The structure, popularly known as the "robo garage" because of its automation, is the first municipal project of its kind on the West Coast. The garage operates like a valet system, with a driver pulling into an entry bay and getting out of his car, which the automated system then takes and parks in an available space.
The garage will contain four entry bays, and it will feature a large glass window facing east toward Sweetzer Avenue where people can watch as mechanical shuttles carry vehicles in and out of bays. The design includes roof-mounted photovoltaic solar panels, use of a sustainable material made from recycled grocery bags and drought-tolerant landscaping. There will also be a fixed art installation by artist Ned Kahn, whose concept consists of a grid of large glass marbles that will reflect the moving parts inside the garage.