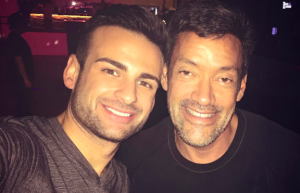 In a letter from his lawyer, West Hollywood City Council deputy Ian Owens alleges he was hired for the position by Councilmember John Duran after a sexual encounter, and that Duran has continued to make unwanted sexual advances.
In the letter to city officials, the lawyer, Aanand Ghods-Mehtani, describes Owens as a "whistle-blower" for sending out a mass email under another name that alleged that Fran Solomon, deputy to Councilmember John Heilman, was soliciting participants for a photo shoot promoting Heilman's re-election campaign. Owens, who also alleges that Solomon has solicited campaign donations for Heilman from her office.
Owens was placed on paid administrative leave after Solomon complained to City Manager Paul Arevalo that she believed Owens was improperly monitoring her office telephone conversations. Earlier this month WEHOville identified Owens as the author of a document attached to the mass email that purported to chronicle Solomon's calls, including what it said were direct quotes from her. Los Angeles Sheriff's deputies are investigating the incident for possible inappropriate or criminal activity.
The letter from Owens' lawyer was revealed today in a story in the Los Angeles Times. The Times reported that Owens said he decided to email information about Solomon's alleged activities after Duran refused to act. According to the letter, Owens claimed that Duran refused to act on his complaints because Owens refused to have sex with him. Owens said he first met Duran on Grindr, the gay sex hookup app on which Duran does have a profile.
Duran, who supports the re-election campaign of Solomon's boss, Councilmember Heilman, denied Owens' allegations. He told the Times that Owens' claim is "an outrageous false accusation meant to detract from the wrongdoing that he did."
Owens' lawyer said his client will sue the city unless Owens is reinstated. "City officials cannot continue to play games with Mr. Owens's life," Ghods-Mehtani wrote.
The dispute between Owens and Solomon is the latest in a history of fights among some Council deputies including Michelle Rex, deputy to Mayor John D'Amico, who has a fraught relationship with Heilman. Solomon has accused D'Amico of yelling at her and acting aggressively and she and Rex do not speak to one another.