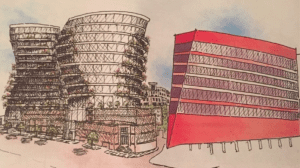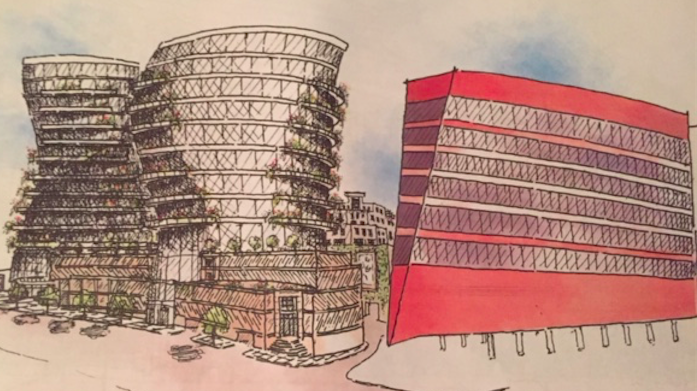 The West Hollywood City Council last night endorsed the recommendation of city staffers that it petition the Metropolitan Transportation Authority (MTA) to not extend its contract to negotiate with developer Charles Cohen on the use of the MTA's bus storage lot on Santa Monica Boulevard.
In 2013, the MTA signed an agreement with Cohen Brothers Realty Corporation of California giving it the exclusive right to negotiate a redevelopment of the 10.4-acre site. That agreement is set to expire in April.
Cohen Brothers, which also owns the adjacent Pacific Design Center on Melrose Avenue and San Vicente Boulevard, has proposed building 335 residential units plus 67 apartments for elderly or other people in need. It's "Design Village" project also would include a 250-room hotel, a 680-seat outdoor amphitheatre and a movie theatre. Other elements include night clubs and bars, restaurants with outdoor dining and 400,000 square feet of office space. A proposed new Sheriff's Station/City Hall would occupy 100,000 square feet. Fronting Santa Monica Boulevard would be the hotel and three tall office buildings (one housing City Hall), with helipads on their roofs. The project also would include two underground MTA bus parking levels and a floor for bus washing and maintenance. All-in-all, it would be larger than other L.A. shopping centers such as The Grove or Americana at Brand in Glendale.
"A project of this scope and magnitude needs to be led by the City and its partner agencies of Metro and the County of Los Angeles," DeWolfe said in her memo. "The process under by which such a significant publicly owned site is envisioned should be inclusive and transparent, and led by the community rather than the private sector."
DeWolfe also recommended that that any future project on the 10.4-acre site include rail service. "The site is a prime location for a future multi-modal and Metro transit station, including light rail, subway and /or enhanced bus service," she said.
Her recommendations were unanimously endorsed by the Council members. Mayor John D'Amico said that while the possibility of a mass transit station in West Hollywood is not on the immediate horizon, any use of the site should envision that. Councilmember John Duran said he had told Cohen in the past that the site should include a public theatre and a civic gathering space.
In a letter to the Council, Cohen described plans for the project as a "starting point" to begin the process of an environmental and public review.
"We are still in the early stages of a process that will give you, city residents, Metro, the Sheriff and all stakeholders numerous opportunities to shape the proposed project, and of course nothing can be approved without your approval," Cohen said.