With the City Council election only five days away, candidates John D'Amico and Lauren Meister have come under attack by the head of the renters' rights organization that helped incorporate West Hollywood as a city.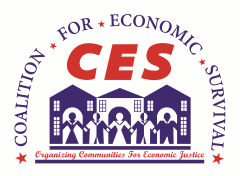 In a series of email messages, Larry Gross, executive director of the Coalition for Economic Survival (CES), urges voters not to support Mayor D'Amico and Meister and to vote instead for Councilmember John Heilman and challenger Lindsey Horvath.
"Lauren Meister and John D'Amico are being supported by the BIG Real Estate interests who oppose renters' rights," Gross says in his email message. "We can't trust Meister and D'Amico to protect renters and we must stop them." In his message, Gross includes the image of a flyer promoting the appearance of D'Amico and Meister as speakers at a luncheon sponsored by the Beverly Hills / Greater Los Angeles Association of Realtors.
In an interview with WEHOville, Gross noted that both D'Amico and Meister are supported by the California Association of Realtors political action committee and have received campaign donations from Jerome Nash. Nash filed a lawsuit in 1984 against the city of Santa Monica contesting a local law that prevented developers from demolishing existing housing occupied by low- or moderate-income people unless the landlord could demonstrate he couldn't make a reasonable return on his investment. Nash's lawsuit failed, but it sparked the passage by the state legislature of an act proposed by Sen. Jim Ellis that permits landlords to withdraw properties from the rental market and evict their tenants without penalty so long as those properties are off the market for a minimum of two years. The Ellis Act is often used by developers to empty rent-controlled properties and then later demolish them or turn them into condominiums.
Nash also is owner of the 32-unit El Mirador building on Fountain Avenue at Sweetzer in West Hollywood, where he evicted tenants in 2010 and has fought unsuccessfully with the City of West Hollywood over his proposals to renovate the building and convert it to condominiums or a hotel. In 2013 Nash also removed tenants from the El Pasadero building on Harper Avenue near De Longpre.
"The number one proponent of destroying rent-controlled affordable housing is lined up behind D'Amico and Lauren Meister," Gross said.
Meister questioned Gross's assertion that the support of the real estate agents group means she is backed by major developers. "The Realtors represent real estate agents who sell homes and condos. They aren't big developers," she said. "If he's referring to that, it's ridiculous and not comparable to actual developers who are donating to individual campaigns and independent expenditure groups."
An analysis by WEHOville shows that Meister's campaign received only four percent of contributions by individuals and organizations indentified as real estate interests.
Gross also questioned Meister's support of affordable housing, noting that she is a homeowner in West Hollywood's affluent Westside. He characterized her positions on restricting development as " a code word for 'not in my back yard. We don't want those people here'." Gross said he believes that West Hollywood needs to both preserve and develop new housing to ensure there is affordable housing for its residents.
"A lot of times to make affordable housing work you have to give exemptions and make certain concessions," he said. "That's a reality and a necessity."
D'Amico also refuted Gross's assertions, noting that during his campaign he has consistently called for more carefully managed development. At a candidates forum at Plummer Park last night he proposed a moratorium on demolition of rent-controlled housing to allow the city to study ways to provide more housing for those displaced by such demolition. D'Amico also suggested the city provide funds to landlords to help maintain their rent-controlled properties. Gross criticized that position. "He wants to give taxpayer funds to private landlords who don't take care of their apartments," he said.
"All of us support rent control," D'Amico said of the Council candidates. "I'm interested in protecting rent controlled housing. John Heilman watched 700 units of rent controlled housing disappear and did nothing about it."
"Everyone's heart is in the right place, but we aren't working wisely," D'Amico said. "Our housing stock is in a crisis."
Complicating D'Amico's effort to present himself as an opponent of over-development is the fact that he is the largest recipient by far of campaign contributions from real estate developers. According to an analysis by WEHOville of donations through Feb. 14, D'Amico received 29 percent of all campaign contributions to candidates from real estate interests. But complicating Gross's assertion that D'Amico is in the pocket of developers is the fact that Horvath received 22 percent and Heilman received 21 percent of real estate dollars.