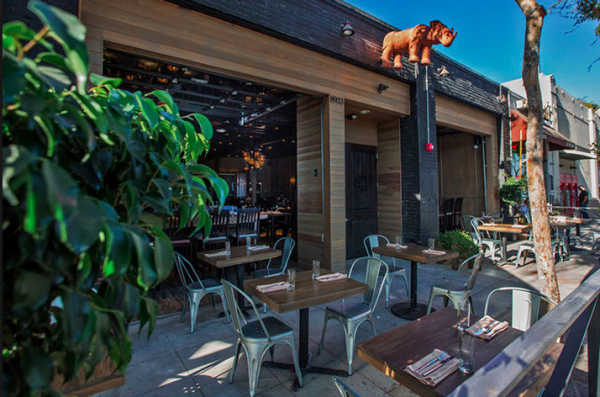 Update: Horn owner Adam Klesh, who hasn't responded to a WEHOville request for comment on the closing, apparently is planning to reopen the restaurant in April with a cheaper menu.
The Horn, a restaurant and bar featuring fresh game that opened on Santa Monica Boulevard in West Hollywood's gay entertainment district only last October, is now closed.
Co-owners Daniel Cammarata and Adam Klesh, both former New Yorkers, had said their goal was to "bring a little bit of New York to WeHo" with a New York-style steakhouse featuring fresh game such as duck, venison and ostrich.  The restaurant occupied a space at at 8933 Santa Monica Blvd. just east of Robertson, at the former Marvin's Pharmacy space.
It opened to much acclaim because of its menu and the design of its interior, which featured some of Klesh's collection of rhino-themed objects from 37 countries. While not styled as a gay place, because of its location in Boystown it attracted a large gay clientele. But from the beginning it had financial difficulties, with one contractor and the restaurant's public relations executive quitting because they weren't paid.
As of publication, WEHOville has been unable to reach Klesh for a comment about the closing and whether he has further plans for the space.