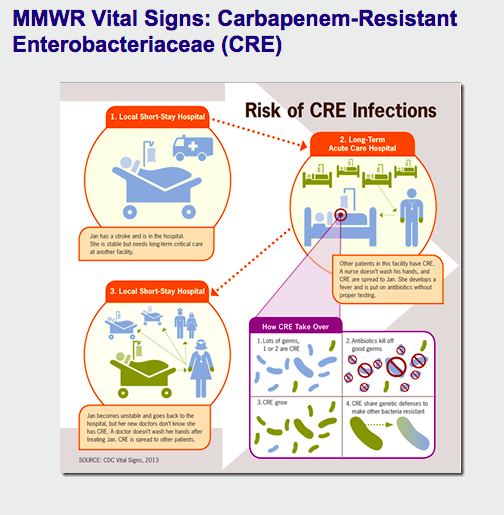 Cedars-Sinai Medical Center said today that four of its patients have been infected with deadly drug-resistant bacteria transmitted by medical scopes that are inserted down the throat.
The federal Food and Drug Administration issued an alert about the danger of using improperly sterilized scopes last month. That came after five patients became sick and two died at Ronald Reagan U.C.L.A. Medical Center. The hospital said the deaths were likely caused by germs known as carbapenem-resistant Enterobacteriaceae (CRE) that are resistant to antibiotics.
The medical devices that transmit the germs, are known as duodenoscopes. In a press release, Cedars-Sinai said it had followed the disinfection procedures recommended by the duodenoscope manufacturer, Olympus Corporation. But despite that, Cedars said, it had identified four patients who had a CRE transmission, all linked to the same duodenoscope, between August 2014 and January 2015.
Cedars-Sinai stopped using that particular duodenoscope has since used enhanced disinfection procedures for such equipment. This week it is mailing letters to all 71 patients who had a duodenoscope procedure with that particular scope between August 2014 and February 2015. Although most people who are exposed to CRE do not develop an infection and will clear CRE from their bodies, and there is no evidence at this point that anyone other than the four patients acquired CRE from a duodenoscope, Cedars-Sinai is offering the 68 patients a free home testing kit for CRE that can be sent to Cedars-Sinai for analysis.
Cedars-Sinai is using additional measures to protect patients who need to undergo a procedure involving a duodenoscope. These include enhanced monitoring techniques involving microscopic laboratory analysis of the duodenoscopes, both before and after procedures as well the cleaning and high-level disinfection recommended by the manufacturer.
Cedars-Sinai also announced today that it would resume non-urgent (elective) duodenoscope procedures, which were halted starting Feb. 19 when it first learned of reports from other hospitals that that the manufacturer's disinfections instructions may not have been sufficient. The decision to resume was based on consultation with other academic medical centers around the nation, as well as with government agencies, about the additional monitoring techniques, including a waiting period for duodenoscopes after disinfection, to allow for an additional bacterial analysis of the duodenoscope before use.