Big bellies on the streets of West Hollywood? You're seeing more of them. But in this fitness-obsessed town they aren't on local residents.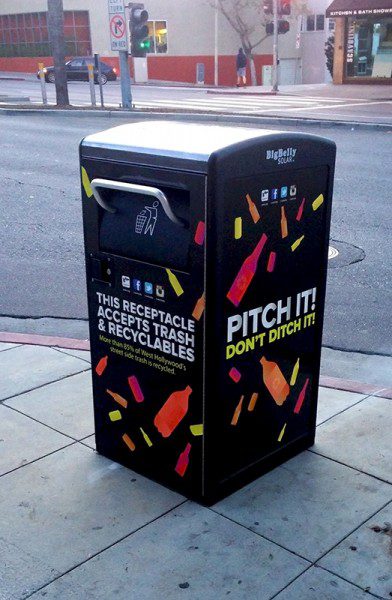 The City of West Hollywood has been installing "big belly" recycling bins along Santa Monica Boulevard that use solar energy to power motors that compact trash. Each of the 18 bins has a capacity of 150 gallons, five times the power of a traditional trash bin.
The city has been installing the bins between Fairfax Avenue and Doheny Drive in areas with lots of pedestrian traffic. They are all expected to be operational by today.
The additional capacity in the "big belly" containers reduces the likelihood of overflow of litter. In addition, the receptacles have built-in cloud computing technology to digitally signal to trash collectors that they have reached capacity and need immediate attention.
During special events, such as West Hollywood's annual Halloween Carnival, the city will use cardboard event containers to supplement the bins.
The bins, which feature brightly colored graphics on black backgrounds, will collect both trash and recyclables. The receptacles have a custom wrap, which includes slogans such as "Pitch It, Don't Ditch It" or "Keep It Clean, Don't Trash West Hollywood."
Approximately 85 percent of materials collected in the city's traditional street-side receptacles are recycled. The city's waste hauler, Athens Services, uses a facility that can process 5,000 tons of mixed materials daily to sort and divert waste, recyclables, and organic matter.