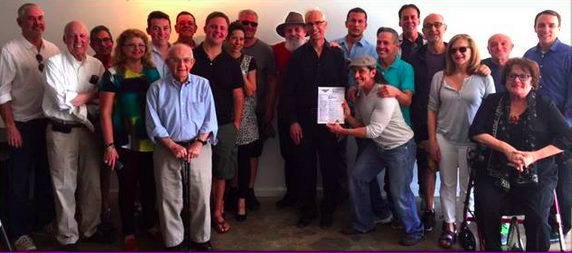 While opponents  are celebrating his loss in Tuesday's City Council election, Councilmember John Heilman already is racking up endorsements for his campaign for Council in the June 2 special election.
In several posts about Heilman on Facebook, Wendell Jones included a photo of some of the 40 West Hollywood residents who that signed the paperwork Heilman submitted on Friday to get on the June 2 ballot.
The supporters included Councilmember Abbe Land, who had decided not to run for re-election last Tuesday, and Lindsey Horvath, a challenger who edged Heilman out and came in third in Tuesday's race for three Council seats. Also supporting Heilman is James "Duke" Mason, an unsuccessful candidate in Tuesday's election.
Among the other Heilman supporters are Yola Dore,  Manny Rodriguez, Josh Kurpies and John Erickson. Rodriguez is vice president of the West Hollywood West Residents Association. Kurpies is district director for state Assemblymember Richard Bloom and a member of West Hollywood's Rent Stabilization Commission. Dore is a member of the city's Disabilities Advisory Board. Erickson is a city employee who served temporarily as deputy to Councilmember Land.
The June 2 election is to fill the seat vacated by Jeffrey Prang, who stepped down from the Council in December after he was elected L.A. County Assessor. Other candidates are Cole Ettman, Heidi Shink, Larry Block and Ariane Kamp.