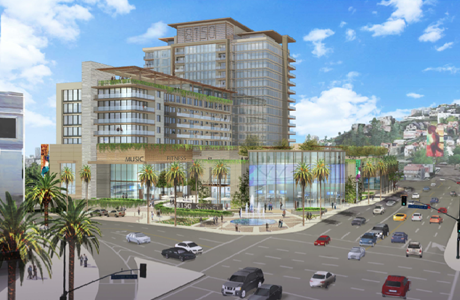 Townscape Partners has engaged noted architect Frank Gehry to design its new mixed-use development at 8150 Sunset Blvd.
Gehry, a Pritzker Prize-winning architect who is based in Los Angeles, is known for famous projects such as the Guggenheim Museum in Bilbao, Spain, the New World Center in Miami Beach and the Walt Disney Concert Hall in downtown Los Angeles.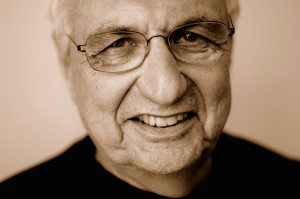 "After listening to the high priority placed on design by civic leaders in the city of Los Angeles and the local community, we knew there was only one choice for the pre-eminent architect of our time, and he happens to be local," said Townscape partner Tyler Siegel. "Frank Gehry's deep understanding of the property, its history and the context will elevate the project to the iconic and timeless status that it deserves. It is exceedingly rare to have the opportunity to work with an architect of this caliber on an infill, mixed-use project, and we feel very fortunate to have Frank and his team on board."
"The site has had historical significance over the course of the last several generations, and it is poised to become the eastern gateway to the Sunset Strip for future generations," Gehry said. "The project has the potential to be something very special, and I am honored to be a part of unlocking that potential."
The 8150 Sunset development anchors the east end of the Sunset Strip and sits just outside the West Hollywood city limits. It would include approximately 111,339 square feet of commercial retail and restaurant space on three lower levels (one of them underground) and one rooftop level. In addition, it would include 223,000 square feet of residential space, with 249 market rate apartments and 28 apartments for low-income people. Its 849 parking spaces would be housed in a seven‐level structure, three of whose levels would be almost or completely underground.
The project has drawn objections from nearby residents who say they are concerned that it will worsen traffic congestion on Sunset Boulevard and in West Hollywood on Havenhurst Drive and Fountain Avenue and make parking more difficult. Preservations also had objected to Townscape's earlier plan to demolish the former Lytton Center bank building on the project site, a 1960 modern bank building distinguished by its zigzag folded plate row and which some see as having historical qualities. Townscape has agreed  to incorporate into the project a colorful 1960 glass mosaic inside the bank ("Spatial Kaleidoscope" by French artist Roger Darricarrerre) and a sculpture ("The Family" by David Green) that was commissioned by Lytton Savings outside the building.
According to a press release from Townscape, Gehry's designs will embrace every aspect of the project, from the building to the public spaces and the interiors of the residences.
The master site plan for 8150 Sunset was developed in 2013 by Hart Howerton of San Francisco. Based on Hart Howerton's site plan, in 2014 the 8150 Sunset project became the first in Los Angeles County to be designated a California Environmental Leadership Development Project (ELDP)—and the only mixed-use project in California to receive that designation. To qualify as an ELDP, a project must result in an investment in California of more than $100 million, create high-wage, highly skilled jobs and result in zero net additional emissions of greenhouse gases. The ELDP certification means local agencies cannot consider the project's aesthetic or parking impact in deciding whether to approve it. It also means that local residents will have limited ability to challenge it in court. ELDP regulations stipulate that all legal proceedings, including initial hearings and appeals, can take no more than 270 days. That is an exceptionally short period in the California legal system.
Townscape also is the developer of the proposed 8899 Beverly project in West Hollywood, the progress of which has slowed because of neighborhood opposition to Townscape's request to nearly double the size of the existing building.