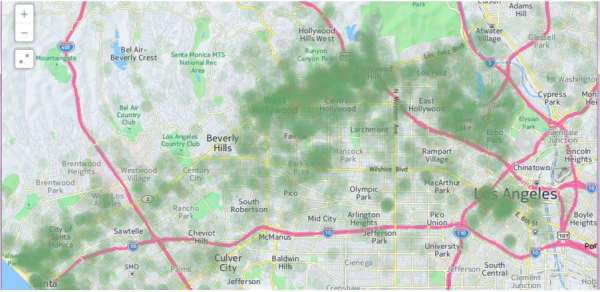 West Hollywood is one of the biggest revenue generators in greater Los Angeles for AirBnB according to a just-released study of that housing rental service by the Los Angeles Alliance for a New Economy (LAANE).
The study is based on a look at AirBnB listings in the Los Angeles area on Oct. 17 of last year. It makes a strong argument that the so-called "shared economy" business has a negative impact on the availability of affordable housing and on hotel revenue. Both are major issues in West Hollywood, where the lack of  housing — and especially affordable housing — has become a growing problem and where hotel room occupancy taxes are the biggest source of revenue.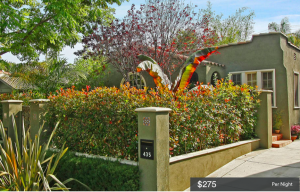 The study is focused on Los Angeles County and the City of Los Angeles and provides few details about West Hollywood specifically. However it notes that West Hollywood is one of AirBnB's top 10 revenue-generating neighborhoods, which also include Venice, Santa Monica, Silver Lake, Hollywood, Downtown L.A., the Mid-Wilshire area, the Hollywood Hills, Echo Park and Marina del Rey.
The LAANE study says that while AirBnB markets itself as a way for homeowners and apartment renters to share their homes with tourists, the bulk of its revenue actually comes from rental of "whole units," which are apartments and houses where the renter or owner is not present. Such "whole unit" rentals accounted for $3.7 million (88 percent) of AirBnB's $4.2 million in revenue from West Hollywood rentals in 2014. If the city's 12.5 percent hotel room occupancy tax were applied to that revenue, it would generate $463,000.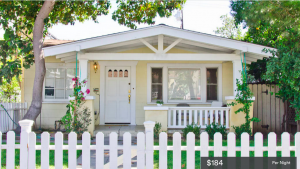 A search of the AirBnB website for West Hollywood rentals turns up hundreds of units, quite a few of which are whole unit rentals, with several clearly owned or rented by people who do not live in them. That is a way for a renter, homeowner or apartment building owner to avoid compliance with the city's rental control ordinance and a city law banning rental of housing units for fewer than 30 days in a row in residential neighborhoods. Those laws generally apply to properties with more than one dwelling unit that were habitable before July 1, 1979 and properties with only one unit, such as a single-family home, that here habitable before July 1, 1979 and whose current tenants moves in before Jan. 1, 1996. West Hollywood restricts annual rent increases for existing tenants to a percentage calculated annually that is based on 75 percent of the Consumer Price Index for the area.
Short-term rentals also generate much more revenue for the owner of a house or apartment building or someone renting an apartment he isn't living in, who is able to compete with local hotels by charging rates as little as half what they charge for an overnight stay.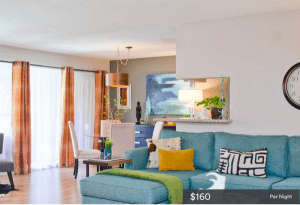 Some West Hollywood AirBnB hosts make it obvious that they don't live in the housing units they are offering. For example, "Kaveh," who is listing a one-bedroom rental on Norton Avenue for $124 a night and a three-bedroom house, also on Norton, for $184 a night, says in his AirBnB profile: "I lived on this West Hollywood property for two years, and absolutely loved it and the neighborhood. Now I have moved in with my wife near UCLA, so I'm happy to be able to share this wonderful space with you!"
Others, by virtue of their listing multiple properties, also make clear that they are effectively "landlords" rather than residents of those properties. For example, "Cody and Joshua" offer a one-bedroom apartment on Fountain for $160 a night with a two-night minimum stay. They also offer a one-bedroom condo on North Kings Road for a minimum stay of one month at $3,069, which lets them avoid violating the city's short-term rental rules. "Keller" is listing studio apartment for $120 a night on Sweetzer Avenue and one two-bedroom apartment for $140 a night on Willoughby along with a studio for $115 a night just outside WeHo in Hollywood.
"Hunter," who offers a one-bedroom apartment for $189 a night (two-night minimum) at 7950 Sunset Blvd., just outside of West Hollywood, brags that he manages vacation rentals all over Los Angeles.
The West Hollywood City Council named a Shared Economy Task Force last year to look into the impact of unlicensed and unregulated rentals through sites such as AirBnB and of taxi services through Lyft and Uber. In a report last month, the task force recommended that the City Council adopt a new ordinance specifically defining short-term rentals to make more clear that they aren't allowed. It also recommended that the city reach out to sites such as AirBnB and ask them to include on their websites a statement that such rental aren't permitted in West Hollywood. AirBnB has done that, but the warning is hidden away on its "help" page.
According to the task force, a survey of hotels by Visit West Hollywood, the city's tourism bureau, found that few saw AirBnB and similar services as a threat. Indeed, most hotels in West Hollywood reported occupancy rates of 95 percent or more last summer according to a report from the city's Finance and Technological Services Department.
But the LAANE study notes that an AirBnB analysis released last  December 2014 claimed that 37 percent of its guests would not have visited Los Angeles or would not have stayed as long as they did were it not for AirBnB. Based on that, LAANE arguments, one can assume that 63 percent of AirBnB guests would have visited Los Angeles and stayed for some period of time if AirBnB didn't exist. "If AirBnB had no listings in Los Angeles, these guests would have stayed in Los Angeles hotels, supported good jobs for Angelenos, and had a negligible impact on the city's neighborhoods, all while paying taxes'" the LAANE study said..
The LAANE study also argues that AirBnB has a big impact on jobs. "It is more likely that AirBnB units provide employment for, at most, 20 percent of the number of workers as a similarly-sized hotel," the study says. "In other words, even a high estimate finds some 1,500 workers in place of the 7,400 that would be in a hotel with as many rooms as AirBnB. The wages paid to workers at AirBnB lodgings may be 13.2 percent of what they would be at a similarly sized hotel, resulting in a difference of $3.1 million a week in wages.