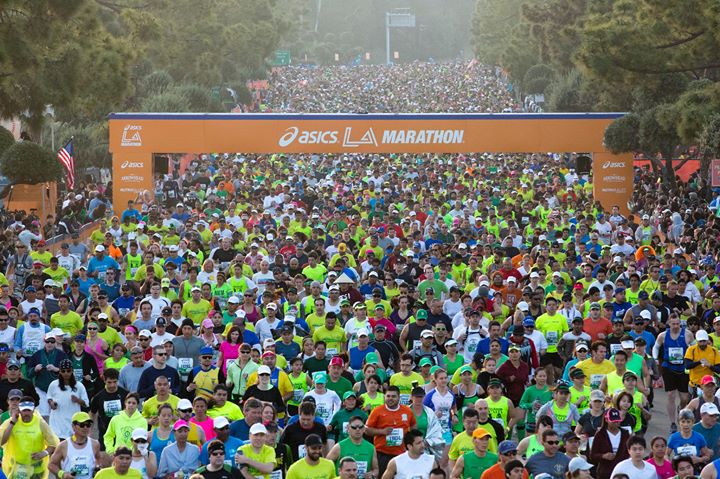 Some streets will be closed in West Hollywood tomorrow to accommodate the 2015 LA Marathon. The marathon will begin at Dodger Stadium in Los Angeles and end at the intersection of Ocean and California avenues in Santa Monica. An estimated 25,000 people from all 50 states and more than 55 countries will run through West Hollywood between mile 13 and mile 15 of the 26.2-mile course.
This year's route will take runners along Sunset Boulevard. They will turn left (south) onto San Vicente Boulevard; then right (west) on Santa Monica Boulevard; then left (south) onto Doheny Drive, where they will enter Beverly Hills.
To ensure the safety of marathon runners, several West Hollywood streets will be closed on Sundayfrom 4 a.m. to 2 p.m.:
Sunset Boulevard between Havenhurst Drive (the route enters West Hollywood along Sunset Boulevard from the City of Los Angeles) and Doheny Drive.
San Vicente Boulevard between Sunset Boulevard and Melrose Avenue.
Santa Monica Boulevard between La Cienega Boulevard and Doheny Drive.
Doheny Drive between Santa Monica and Beverly boulevard (the route exits West Hollywood along Doheny Drive to Beverly Hills).
Parking will be strictly prohibited along the LA Marathon route. "No Parking" signs will be posted prior to the event. Vehicles in violation will be ticketed and towed at the owner's expense.
LA Marathon spectators and residents looking for alternative parking solutions during the marathon are encouraged to visit the City of West Hollywood's website, where there is a directory of parking structures and municipal lots with hours of operation and rates www.weho.org/parkinglots.
Members of the public also are encouraged to carpool and to use public transportation. The following Los Angeles Metro bus lines connect to West Hollywood: 105, 705, 4, 704, 217 and 218. There is a trip-planning tool available online at www.metro.net.
For additional information regarding the marathon, including details about road closures and alternate access routes, visit www.lamarathon.com. A complete route map is available at www.lamarathon.com/event/course-map.