A standing-room-only crowd said goodbye tonight to two of West Hollywood's longest-serving City Council members and welcomed two new ones in the biggest change in local government since the city was founded 30 years ago.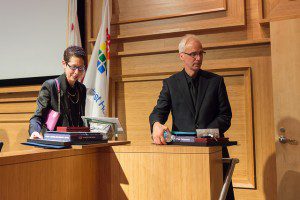 Leaving the Council were Abbe Land, a 22-year member, who decided last year that she would not seek re-election in the March 3 election, and John Heilman, a 30-year member, who was defeated in that election. Heilman is a candidate in the June 2 special election to fill the Council seat formerly held by L.A. County Assessor Jeffrey Prang.
Joining the Council were Lindsey Horvath, who was elected mayor tonight, and Lauren Meister, who was elected mayor pro tem. John D'Amico, elected to the Council in 2011 and re-elected on March 3, also was re-installed as a Council member.
In speeches to the Council audience, newcomers Lauren Meister and Lindsey Horvath and re-elected incumbent John D'Amico mentioned several items that are on their agendas.
All three said they would push for ethics reform. Horvath said she was working with Joe Guardarrama, a lawyer whose practice focuses on campaign finance and ethics issues, to draft an ethics reform proposal that she will present to the Council on April 20. Meister said she will push for the city to consider reforms and study practices in other cities such as San Francisco. D'Amico said he will call for creation of an independent ethics commission for West Hollywood. D'Amico said he wants to consider restrictions on donations by Council members to charities with which they are affiliated and on whom candidates can take money from.
Meister said she also will push for rolling back parking meter enforcement hours and reducing fines levied for violation of parking ordinances.
Goodbye speeches by Council members Abbe Land and John Heilman drew standing ovations from the audience and praise from the Council members John Duran and John D'Amico and newcomers Horvath and Meister.
"We would not have what we have today if they had not placed the basic building blocks in place," Duran said of Heilman and Land.