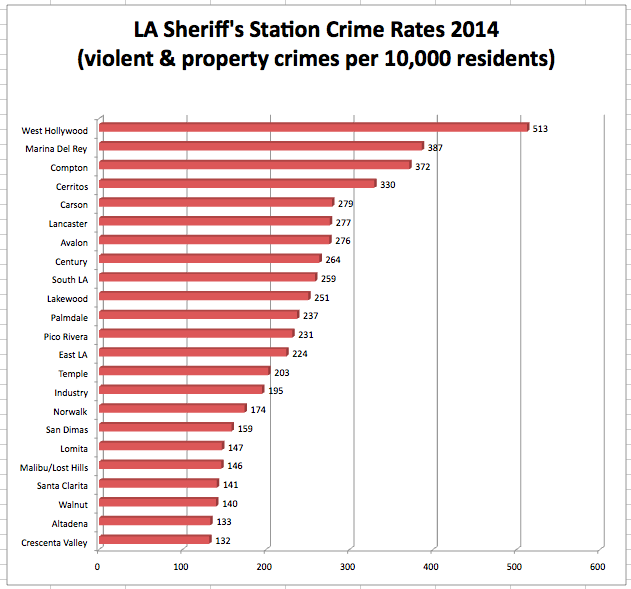 A report on crime in West Hollywood that will be delivered to the City Council tonight says the city "continues to be a very safe place to visit, live and work."
But that seems to be contradicted by a recently released report by the Los Angeles County Sheriff's Department that shows the overall rate of violent and property crimes reported to its West Hollywood Sheriff's Station last year tops that of the other 22 territories the Sheriff's Department serves in Los Angeles County. For example, West Hollywood's 2014 reported crime rate is 98 percent higher than that of the department's South Los Angeles Station and 38 percent higher than that of its Compton Station.
The department's report says the WeHo station reported 513 crimes per 10,000 residents, followed by Marina del Rey with 387 and Compton with 372. At the bottom of the list is Crescenta Valley, with 132 crime reports. Of course with their much larger populations, more actual crimes were reported in Compton and South Los Angeles. However the crime rate is generally accepted as a much more relevant measure of an area's safety than is the absolute number of crimes. The WeHo data also includes figures from small areas such as Universal City which are served by the West Hollywood Sheriff's Station. They account for only a few reported crimes.
The 2014 report chronicles only "Part 1" crimes, which are among the most serious. They include crimes against people and property such as arson (no reported incidents in West Hollywood), homicide (one incident), rape (seven incidents), car theft (87 incidents), robbery (theft that involves force; 96 incidents), burglary (breaking or entering; 220 incidents) and larceny (theft that doesn't involve force, such as stealing a bicycle or shoplifting: 1,191 incidents).
The report shows robbery reports were up 37 percent over 2013 and aggravated assault reports were up 20 percent. Reports of rape declined 50 percent, and burglaries reports were down 26 percent. Auto thefts were down 15 percent. There was no significant change in homicide or larceny reports.
The county Sheriff's Department report does not chronicle "Part 2" crimes, which include non-violent activities such as prostitution, purchase or sale of illegal drugs, driving under the influence of drugs or alcohol, public drunkenness, disorderly conduct and vagrancy. However the Public Safety Department report does document the number of drug-related offenses in the last half of 2014 compared to the same period in 2013. Possession of various drugs dropped from 181 instances in the last six months of 2013 to 144 in the last half of 2014. A major reason for that decline was the reclassification of possession of less than an ounce of marijuana as an infraction rather than a misdemeanor.
The largest number of arrests for drug  possession involved methamphetamine, a highly addictive drug whose use is common in the city's gay community. In the last half of 2013 there were 115 arrests compared to 103 in the same period last year. Arrests for possession of cocaine, heroin and GHB increased slightly from 36 in the last six months of 2013 to 38 in 2014. There were 30 arrests for marijuana possession in the last half of 2013 and three in the last half of 2014.
Arrests of drug dealers also declined from six in the last half of 2013 to four in the last half of 2014. Two of the four arrests for meth dealing involved West Hollywood residents. There were no arrests for sale of cocaine, heroin or GHB in the last half of 2014. Arrests for sale of marijuana fell from seven to two
The Public Safety report  breaks down crimes reported in the last six months of 2014 by area of the city. The biggest increase in crime was in the city's so-called "East District" (east of Fairfax Avenue) where overall crime reports were up 28 percent. Of 237 crimes reported, 220 involved theft of some sort (car break-ins, burglaries, strong-armed robberies).
The "West District," which begins at La Cienega Boulevard and includes the gay nightlife area along Santa Monica Boulevard known as Boystown, showed a slight decrease in reported crimes (337 for the last half of 2014 compared to 358 for the last half of 2013). In that area 293 of the 337 crimes involved robberies, burglary or theft of some kind.
The "City Center," which runs from La Cienega to Fairfax, reported only 215 crimes in the last half of 2014, barely up from the 212 reported in the same period of 2013. Of those, 191 involved theft or burglaries of some type.
The  Public Safety Department recommends the Council approve several initiatives. One is the hiring of a consultant to conduct a "Sheriff's Station report card / community satisfaction" survey. That recommendation stems from complaints about the conduct of Sheriff's Station employees. The report notes that there were 46 complaints made last year, a decline from 52 in 2013 and a major decline from 105 made five years ago. The report says the Sheriff's Station and Public Safety workers found deputies conduct was "reasonable" in 36 of the 46 complaints filed. The report said there wasn't enough information in four of the complaints to determine whether the conduct of the deputy was proper. Two complaints involved conduct that the report says could have been better.
The hiring of a consultant to conduct a "report card" survey comes at the suggestion of Mayor John D'Amico, who has said he has had at least five conversations with Capt. Gary Honings, head of the West Hollywood Sheriff's Station, about alleged improper behavior by deputies.
The pages that follow offer a breakdown of 2014 violent and property crimes by type (Page 2) and crimes by type in the last half of 2014 compared to the last half of 2013 in the city's "East District" – Fairfax to La Brea (Page 3), "City Center" – Fairfax to La Cienega (Page 4) and "West District" – La Cienega to Doheny (Page 5)