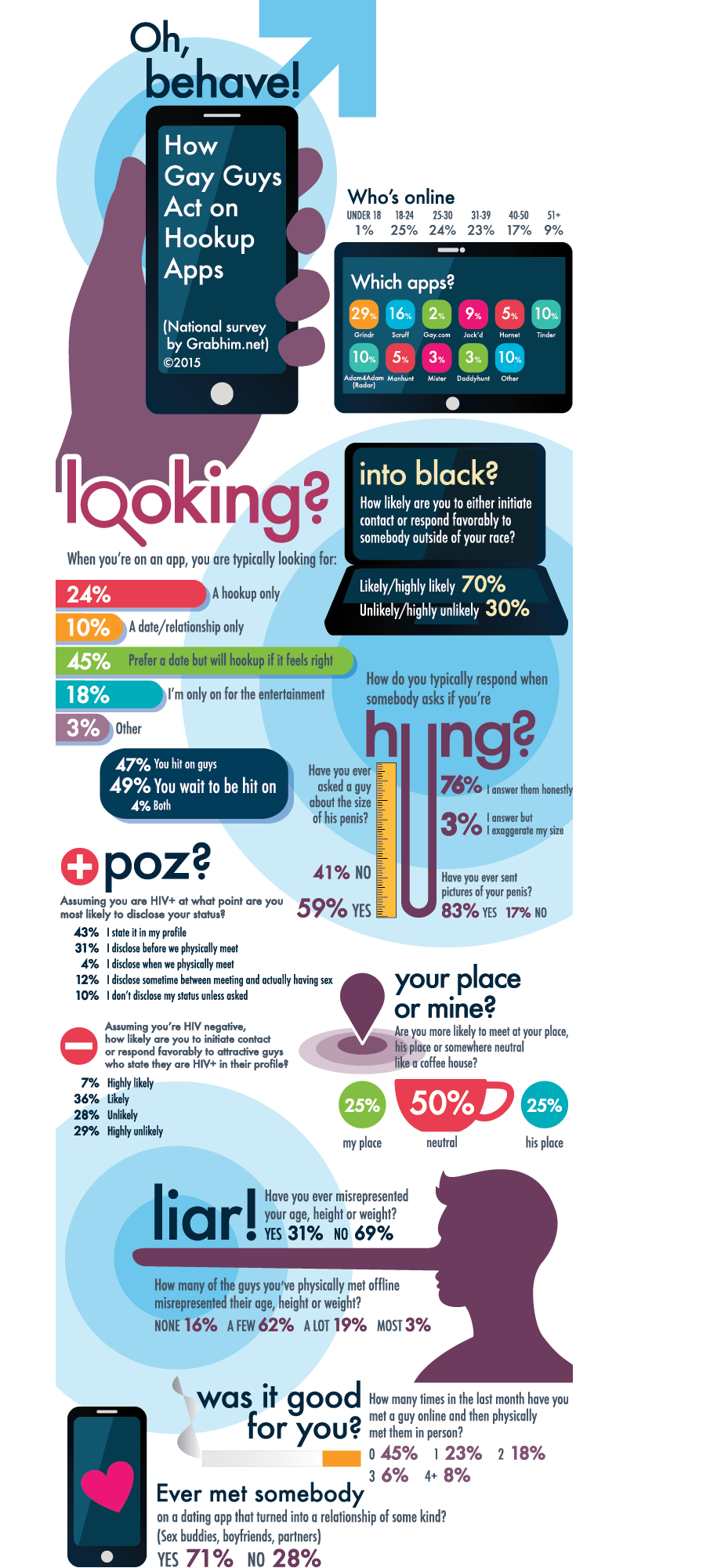 If you're a gay man what should you do, and what should you expect, when you're looking for love, whether casual or enduring, on a mobile telephone app?
GrabHim.net, a website created by gay relationship advice author Michael Alvear, offers some answers in a recently released survey. Almost 4,000 men ages 18 to 65 participated in the survey, which was conducted in February and promoted on Facebook.
A few of the more surprising (to some) findings:
83 percent of gay men send pictures of their "junk." "This is, by far, the most shocking statistic in our survey," GrabHim says. "That means almost everybody on the dating apps has taken the time to pose their penis (to add an optical inch or two, natch), store it on their phone and send it off to strangers they are likely never to meet."
57 percent of HIV negative men do not want to have sex with HIV positive men. "We asked a simple question: Assuming you're HIV negative, how likely are you to initiate contact or respond favorably to attractive guys who state they are HIV+ in their profile? The good news is that 43 percent of gay men said they would be likely/highly likely to make contact. The bad news is that a majority said no. We think that's bad news because it reveals the depth of HIV stigma among gay men. Is that truly discrimination, though? Or an understandable fear? Given what we know about how easy it is to avoid HIV, the rise of Truvada and how hard it is for the majority of infected men getting treatment to pass on the infection we think it is both—fear-driven discrimination."
45 percent of gay men who meet on mobile phone apps don't have sex. "In other words, almost half the time two guys meet, one of them says, 'Thanks but no thanks'," GrabHim says. "… it might be understandable given the amount of lying about age, height and weight). If you thought you were meeting a young hottie and the guy that shows up is so old he owes Jesus ten bucks for the lumber, you're probably going to bail."
A summary of the findings is included in the infographic above.  And details are available online.
Alvear, who lives in Atlanta, offers a variety of gay sex and relationship advice books on the GrabHim.net site such as "Meet the Hottie in the Corner." Alvear's show, "The Sex Inspectors" is on HBO.