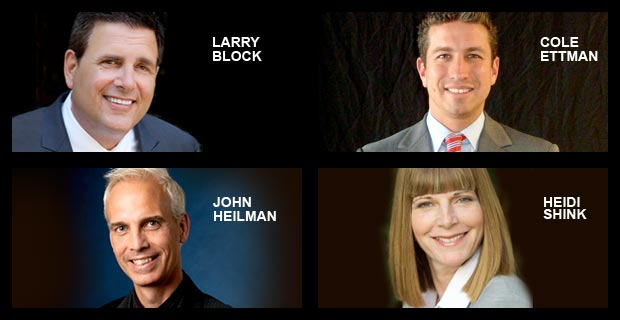 In early December, WEHOville asked West Hollywood residents what issues they wanted candidates in the upcoming City Council election to address. We received hundreds of responses and boiled them down to 13 key issues. We have asked each of the 4 candidates in the June 2 special City Council election to offer their positions on these issues. On each Monday through May 4 we will publish one or two of the questions and the candidates' responses.
Traffic congestion is a major issue in Los Angeles, and especially in West Hollywood, given that our major east/west arteries are used by commuters passing to and from other areas. Given that situation:
a) What should the city do to improve the flow of rush hour traffic along Santa Monica Boulevard?
LARRY BLOCK
On the westbound lanes of Santa Monica during rush hour the city might study eliminating the parking lane from 4 to 7 p.m. and opening up that lane to improve traffic flow. On the stretch from Doheny to La Cienega the right lane westbound would be a right turn lane for La Cienega, (at least past Westmount) , and on the westbound lanes from La Cienega to Fairfax we can consider the same thing, utilizing the parking lane for right hand turns at Crescent Height and Fairfax. On the eastbound lanes of Santa Monica, which are busiest during rush hour, we can consider the same removal of the parking lane from 7 to 9 a.m. to allow three lanes to flow traffic.
COLE ETTMAN
First and foremost, the City must not continue the failed practice of approving residential or commercial developments that fail to adequately mitigate the negative impacts caused by increased traffic and and a lack of parking.  In addition, the CityLine bus does not serve the majority of our community nor does it mitigate boulevard traffic.  Anyone who lives in West Hollywood should be able to eat, shop, work and play in our city without needing a car.  Anyone staying in one of our many hotels should be afforded the same opportunity.  Therefore I will work to:
Expand the Pickup Line city-wide in a figure eight configuration to include Sunset and Santa Monica boulevards.  

Synchronize traffic signals along Santa Monica Boulevard.

Prevent gridlock by implementing better traffic enforcement during rush hour utilizing our sheriffs department.
JOHN HEILMAN
We should always look at how we can improve traffic flow by better synchronizing lights, but we will not be able to significantly improve traffic until we have more transit options for people.
HEIDI SHINK
There are no "easy fixes" to traffic because traffic is a symptom of there being too many cars in too small a space. This has been caused by decades of previous Councils pushing unchecked development and growth without any plan for traffic mitigation or the need for increased parking. However, there are a number of ways in which we can alleviate and calm excessive traffic:
Gather more relevant data to have a more accurate picture of traffic.
Currently, the information flowing into the traffic control hub in City Hall only measures vehicle traffic. While this information is necessary, it doesn't also give us data on the flow of bicycle traffic and pedestrians, the two variables which most significantly impact our street traffic. I propose installing a PCOOT-style system which would use subterranean sensors (which are very cost-effective) and video monitors to measure bicycle and pedestrian traffic, allowing us to better synchronize our lights.
Install stoplights at all crosswalks, as well as install lights to illuminate crosswalks during day and night.
Stoplights at crosswalks are a great idea, one that I would propose installing as soon as we can. Far too many people have paid the price for the lack of this simple solution. Additionally, lights at crosswalks will actually speed traffic, as well as keeping pedestrians safer because they will allow more pedestrians to cross at one time. This creates more predictability for drivers than the current system where pedestrians trickle across streets one and two at a time.
We can also improve traffic flow around our crosswalks while protecting pedestrians by installing LED-based pedestrian crossing lights that enable long distance perception of pedestrians. These systems, such as Futurlux, provide optimum and lateral light direction onto the crossing. This lateral lighting makes a person stand out much better in the dark as well as from a distance, and there are other cutting edge lighting systems that illuminate pedestrians during the daylight hours as well. West Hollywood can be a leader in the area of crosswalk safety by utilizing the modern tools available to us right now.
b) Should the city make pass-through commuting more difficult in West Hollywood instead of easier, forcing commuters to use Wilshire or Beverly boulevards instead of Santa Monica Boulevard, our Main Street?
LARRY BLOCK
We can encourage commuters to use Wilshire or Beverly in a few different ways going eastbound. One idea might include a right turn at Robertson or San Vicente pushing cars southbound. That would create a forced use of Beverly Boulevard for eastbound drivers from the Beverly Hills direction. On westbound traffic this question is harder to answer. The only answer I can come up with is to not allow cars coming south from Sunset or Hollywood to make a right or left on Santa Monica Boulevard at Fairfax or Crescent Heights, thus pushing the mid city congestion southbound. Please note these ideas are food for thought and not proposals.
COLE ETTMAN
No.  Making it more difficult to use Santa Monica Boulevard will only flood our neighborhoods with overflow and cut-through traffic destroying the unique quality of live we have worked so hard to build.
JOHN HEILMAN
Making it more difficult to commute through West Hollywood will impact residents as well as pass-through commuters. Portions of Beverly Boulevard are in West Hollywood, and many West Hollywood residents use Wilshire Boulevard to get to work. We need to work with our neighbors to improve east-west and north-south traffic on all of the streets of the Westside. We also need to bring subway or light-rail service to the West Hollywood area.
HEIDI SHINK
Simply discouraging commuters from using Santa Monica Boulevard would only be a band-aid over the larger problem. Even if we were able to divert commuters from using Santa Monica Boulevard, that would only open up that road for increased local traffic. The root issue is that our main streets are ill-equipped to handle the traffic we already have, so the only way to treat these symptoms is to address the larger problem by using more complete data (as I referenced in Question A), as well making traffic flow more predictable though the use of timed lights at major crosswalks.
c) What can the city do to address the problem of commuters driving through residential streets to avoid congestion on the city's east/west thoroughfares?
LARRY BLOCK
Traffic calming in our residential neighborhoods can be accomplished in various ways. One of the first traffic calming measures I would adopt on heavily congested residential streets is a policy similar to the Spaulding Square…(off sunset just east of Fairfax).. . In that area only residential vehicles are allowed to travel thought those neighborhoods at certain hours. The hours for 'passing thru' are restricted. We can adopt similar 'restricted hours' for our most heavily congested residential zones.
In addition the city can adopt additional traffic calming measures, adding speed bumps, creating traffic circles that teach cars that its easier to stay on the main road instead of rushing through side streets. We can also put speed limits on the side streets and enforce them so that drivers are forced to slow down when traveling on a side street.
By combining the above approaches, and possibly entertaining the concept of the '3rd' lane on Santa Monica cars wishing to 'turn' will be discouraged from the use of side streets.
In all cases enforcing speed limits reinforces our 'pedestrian safe zone' standards.
COLE ETTMAN
Synchronize traffic signals and better traffic enforcement will ease the flow of traffic through our city and discourage commuters from taking short cuts through our neighborhoods. We must thoroughly investigate traffic calming solutions for each of our neighborhoods, then fully commit to fast tracking and fully funding the necessary improvement. Prohibiting turns onto certain residential streets has worked to curb nighttime traffic; this could work during rush hour as well.
JOHN HEILMAN
We have implemented traffic-calming measures on some residential streets. Some of those measures have been successful in reducing congestion on neighborhood streets. We have to be careful, however, that a measure designed to reduce traffic on one residential street doesn't end up pushing it onto the next residential street.
HEIDI SHINK
The residents of quiet neighborhoods should not be made to pay for the lack of ideas coming from City Hall. Diverting traffic into residential areas is a burden on our already narrow and congested off-streets. Aside from the solutions I have already discussed to ease traffic on our main arteries, cut through traffic should be eased via the addition of roundabouts, which have worked well in other parts of the city, as well as by converting some residential streets to one-way streets and creating cul-de-sacs to discourage through-traffic.