Interior designers from across the country will converge in West Hollywood this week for the Pacific Design Center's annual Westweek.
The two-day trade event begins Wednesday and will commemorate the 40th anniversary of the PDC, which sits on 14 acres on bounded by Melrose Avenue and San Vicente Boulevards. Its Cesar Pelli-designed Blue and Green buildings and the new Red building are the most prominent structures in West Hollywood.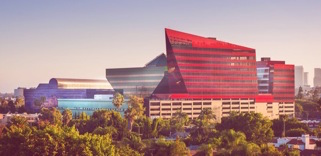 As part of the anniversary celebration, designLAb has commissioned an installation in the Blue building lobby by 2J that reflects on the PDC's design. Other lobby exhibits include an installation by Won Ju Lim and Kenny Scharf's Daisymobile, a Pontiac automobile that the artist re-interpreted in terms in his iconic style. The exhibits are on display through July 31.
Participants in this year's Westweek include designers such as Hagy Belzberg, Geoffrey Bradfield, Julia Buckingham, Barry Dixon, Oliver Furth, Alexa Hampton, India Hicks, Dakota Jackson, Suzanne Kasler, Christopher Kennedy, Richard Landry, Andrew Skurman and Suzanne Tucker. The event also will attract editors of leading design publications such as Architectural Digest, Domaine, Elle Décor, Interiors Magazine, Luxe Interiors + Design and Town & Country magazine.
Wednesday's events will include a discussion led by Margaret Russell, editor-in-chief of Architectural Digest, with designers Alexa Hampton and Michael S. Smith. The Los Angeles design movement will be the topic of a discussion by interior decorator Oliver M. Furth, sculptors and decorative artists David Wiseman and Stefan Bishop and fiber artist Tanya Aguiniga with Melissa Goldstein, a contributing editor at C&C Home.
Among other Wednesday events are a roundtable hosted by Thomas Lavin designers Chris Barrett, Dakota Jackson, Andrew Skurman and Madeline Stuart and a discussion of design in the digital age featuring Justina Blakeney, Jaime Derringer, Christian May and Brendan Ravenhill. A number of PDC showrooms such as Edelman, Lee Jofa, Michael Taylor Designs, Stark Fabric, Wallcovering & Furniture and Summit Furniture host events introducing new collections.
On Thursday, Pamela Jaccarino, editor-in-chief of Luxe Interiors + Design, will interview designer Mary McDonald. Nicci Solomons, executive director of the American Institute of Architects, Los Angeles, will lead a discussion with Joan Behnke, Hagy Belzberg, David Hertz and Dorothy Macik. Other events include discussions of design licensing issues and use of social media.
The event will end with an invitation-only Stars of Design ceremony honoring select Southern California designers that also will pay tribute to nearly 200 past honorees awarded over the past 20 years.