Beloved brother, partner, uncle, friend and Dodgers fan Scott Edwin Stewart passed away this week, early Monday morning March 23, 2015, in West Hollywood, California, where he lived for the past 26 years.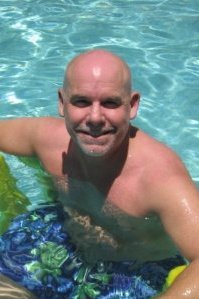 Born on May 31, 1961, and raised in Fort Stockton, the Texas native is survived by his partner, Jorge Adrian Reyes Reyes; brother, Samuel Earl Stewart of Mesquite; sister, Sarah Elizabeth Corse, and her husband, Eddy, of Mobeetie; numerous cousins, including favorites Susan Stadler and Annie Stenberg; and many nieces, nephews, great-nieces and great-nephews. He joins mother Ethel Louise Harral, father L.G. Stewart, stepfather Walton Harral and older brother Luther Glen Stewart III in eternal rest.
According to his siblings and cousins, Scott grew up the spoiled youngest child of four on the family sheep ranch, where he was always up to some mischief. A graduate of West Texas State University in Canyon, the lifelong Dallas Cowboys and Texas Longhorns fanatic made his career in Austin and Los Angeles in the banking industry and at Twentieth Century Fox Film Corporation's Finance/IT Group.
Scott's world became even more complete when he met the love of his life, Adrian, in August 2011. "Sugar Bear," as Adrian affectionately called him, loved his family and friends dearly, as well as his walks along Zuma Beach, musical theater (especially "Chess"), Stoli and club sodas, his good pals "the 'Lost' Boys" and their camping trips, as well as his treasured Dodgers bobble-head collection.
If anyone needed to find the active WeHo citizen over the past few decades, you would always check for Scott at Marix, first and foremost. If he wasn't there sipping a margarita and telling wild stories about his days in marching band or delivering his signature laugh, panic ensued and the filing of a missing persons report was considered.
Our lives will never be the same without him, but if Scott thought there was too much fuss, he'd simply tell us to "Hush up and raise a glass to me."
Memorial services will be held at 3 p.m. on Friday, March 27, at Forest Lawn Hollywood Hills Cemetery at 6300 Forest Lawn Dr., Los Angeles, CA 90068, with a reception immediately following at Marix, located at 1108 N. Flores Street in West Hollywood. In lieu of flowers, donations may be made in Scott's memory to the American Heart Association or a charity of your choice.