The Los Angeles County Sheriff's Department's traffic services detail will be conducting a driving under the influence / driver's license checkpoint at an undisclosed location in West Hollywood on Saturday between the hours of 7 p.m. and 3 a.m.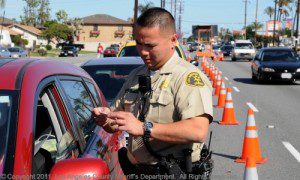 In a press statement, the department said: "The deterrent effect of DUI checkpoints is a proven resource in reducing the number of persons killed and injured in alcohol or drug involved crashes. Research shows that crashes involving an impaired driver can be reduced by up to 20 percent when well-publicized DUI checkpoints and proactive DUI patrols are conducted routinely."
"Over the course of the past three years in the contract cities policed by the Los Angeles County Sheriff's Department, DUI collisions have claimed 33 lives and resulted in 898 … crashes harming 1,330 of our friends and neighbors," said Sgt. Daniel A. Dail of the traffic services detail.
Deputies will be looking for signs of alcohol and/or drug impairment with officers checking drivers for proper licensing delaying motorists only momentarily. When possible, specially trained officers will be available to evaluate those suspected of drug-impaired driving.
Recent statistics reveal that 30 percent of drivers in fatal crashes had one or more drugs in their systems. A study of active drivers showed more tested positive for drugs that may impair driving (14 percent) than did for alcohol (7.3 percent). Of the drugs, marijuana was most prevalent, at 7.4 percent, slightly more than alcohol.
The Sheriff's Department recommends that if you plan to go out and have a drink:
Arrange rides home for your friends, family, co-workers and yourself before the drinking begins.
Identify and provide free non-alcoholic drinks or other promotional items to your designated driver.
If you are hosting a party limit drinks to your guests or patrons. Don't serve more than one or two over several hours.
Cut back on the amount of drinks you plan to bring to any party – and provide plenty of food.