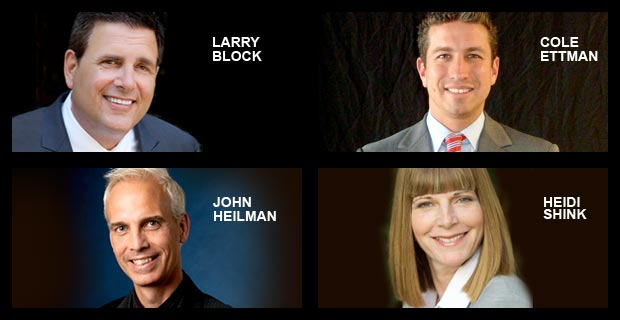 In early December, WEHOville asked West Hollywood residents what issues they wanted candidates in the upcoming City Council election to address. We received hundreds of responses and boiled them down to 13 key issues. We have asked each of the 4 candidates in the June 2 special City Council election to offer their positions on these issues. On each Monday through May 4 we will publish one or two of the questions and the candidates' responses. On March 23, candidates addressed parking issues.
1) Parking, or the lack thereof, is a major problem in West Hollywood.
a) Can the city do more to address the difficulty residents have finding parking? And if so, what?
LARRY BLOCK
 The city can do more to address the difficulty residents have finding parking in a host of ways. We can build more lots. At the north end of Plummer Park is a perfect place. That lot would benefit both the park and local residents who need to park overnight.
On many streets parking is not allowed at the T-intersections.   On Huntley it was allowed, then we had a water main break and public works eliminated three parking spaces and did not allow those parking spaces to be available even after the repairs were made.   Those were legal for 10 years. My neighbor and I drove the city and counted 33 T-intersections, about 18 of which had no parking red zones, and the balance had parking.
I advocate for an all-city parking pass that allows residents to "Eat, Shop and Play" in West Hollywood without having to pay every time they park.   Our revenue from resident parking passes was $204,000.    We can afford to give each resident a free resident parking pass.
In addition we need to go back to free parking on Sunday.  We should roll back the parking meters from midnight to 8 p.m. In addition we need to fix the meters.  The meters are ripping people off.
There are also opportunities for private-public partnerships and utilizing commercial parking lots for residents overnight. I'd like to explore this where possible.
COLE ETTMAN
The city must build more parking structures- and not those that cost $134,328.36 per parking space! I will vote for the city to purchase property and build structures that will accommodate both residents and visitors alike.  West Hollywood must not play second fiddle to Beverly Hills and other cities that provide easy access for people to live, work, shop, eat and play.  We must build our infrastructure now.
We must roll back our parking meters to 8 p.m.  This will allow people to enjoy an evening in the city without fear of ticketing.  It will also make our streets safer for both drivers and pedestrians since many accidents are caused by cars cruising for parking.  
We must provide incentives for drivers to go directly to our parking garages.  Providing one hour of free parking at all times will get cars off our streets.  As long as it is cheaper to park at a meter we will not increase the use of our garages.
The city must revise its building codes to require that new developments provide enough parking to accommodate all occupants.  We must curtail entitlements that reduce parking requirements in proposed developments.
JOHN HEILMAN
 We continue to look at opportunities to increase parking in the City of West Hollywood. We have added a significant number of spaces at West Hollywood Park. We will eventually have some access to the parking at the Pacific Design Center. We are building an automated parking structure behind City Hall. While these structures do not primarily address the issue of parking in residential neighborhoods, they hopefully ease some of the burden on our streets. The automated parking structure, if successful, may be a model that can be used to address the existing parking shortage in many of our residential neighborhoods. We have to remember that many of our older structures have limited amounts of parking and this creates a tremendous demand on our residential streets.
HEIDI SHINK
Yes, the city can do better. West Hollywood has such difficulty with parking because so many of the commercial and residential developments that have been built were not required to have adequate parking or were given variances that absolved the developers of the responsibility to include a reasonable number of parking spaces. Currently, commercial buildings are required by the West Hollywood municipal code to provide 3.5 parking spaces per 1,000 square feet of retail space, and 1-bedroom apartments and studios larger than 500 square feet are required to have 1.5 spaces per unit (ref: West Hollywood Municipal Code 19.28.040, Table 3-6). This, of course, assumes that a) two people would not be living in a 1-bedroom apartment together, and b) only 1 of those people will own a car (or one will own a car and the other will only own half a car). Because of the lack of off-street parking, many apartment residents are forced into street parking where (unless their area is zoned for preferred parking) they are competing with cars looking for spots because of a lack of spaces on any one of our main east-west thoroughfares. We need to re-examine our antiquated parking requirements and revise our policy for parking in new developments (both residential and commercial), making sure that adequate parking is provided to suit the amount of residents and consumers utilizing those buildings.
I highly favor more preferred parking zones to give residents a better chance at parking nearer to their residence. The high cost and limited availability of parking has become almost a de-facto tax on the people who live, work and play in our city. I would propose rolling metered parking hours back to 8pm and to take meter-holidays on national holidays. Additionally, we need to provide for the first two hours of parking in a public lot to be free. This will be a huge convenience to the customers of our local businesses, and it will encourage more people spend longer patronizing local businesses and restaurants.
I will also introduce data-driven technology in the form of sensors that will allow the city and motorists alike to see were parking spots are available in advance. These sensors eliminate the need to double park or circle around the block, both of which exacerbate traffic exponentially. This technology can also be applied to lots as well as parking structures.
b) In Los Angeles, there is a campaign underway to limit the amount of a parking ticket to $25, the reasoning being that tickets are supposed to dissuade people from breaking the law, not provide a source of revenue to the city. Would you support a similar limit in West Hollywood, which gets a significant portion of its revenue from parking tickets?
BLOCK
I would support the lowering of parking fines for local residents or giving local residents the opportunity to have one ticket per year waived. I'm not in agreement of slashing tickets so low that they are no longer a deterrent.
Our parking contract with Serco is a multi-million dollar parking contract that services West Hollywood and many Westside cities. The goal is compliance, and the fees are high to force compliance. The monies we get from the parking citations cover a) the cost of our contract with Circo to issue the tickets, b) the cost of citation processing with Xerox, which processes the tickets and c) court fees. With all these things in mind, if ticket prices were lowered the City of West Hollywood's revenue stream would also be compromised.
Despite my wish that we could lower fees, it is simply not practical. My best thought is that we can mitigate future increases in these fees by negotiating better contracts with our contracted suppliers on a going forward basis. Remember, we have a minimum wage law that states all city contractors must be paid a "living wage."  Thus the cost of the tickets is a by-product of expenses involved in issuing these tickets, which are reasons for these high ticket prices.
COLE ETTMAN
Our parking tickets should represent a modest fine to deter violations as opposed to an oppressive amount that takes advantage of both residents and visitors. The city should not be balancing its budget on the backs of residents and visitors.
I do not support using parking tickets as a revenue generator for the city.  Parking fines have become an additional tax that no West Hollywood resident is able to escape.  We must remove all unnecessary tow traps and other misleading regulations that increase the number of tickets issued.
JOHN HEILMAN
I don't support this. If the cost of a ticket is about the same amount as the cost of parking in a commercial lot, visitors will simply run the risk of getting a ticket. This is especially true around Sunset where nighttime parking rates can be $20. Part of the reason for ticket costs to be higher is to discourage visitors from parking in residential neighborhoods and disturbing our residents.
HEIDI SHINK
Yes. For too long, our city has relied on parking ticket revenues to bolster the General Fund. Fines have become so large that they are punitive, and, in fact, too large for some residents to pay, making it almost impossible to even collect the penalty in some cases. These high fines are akin to a secret tax, and once again, the city is putting the onus of revenues onto the backs of the middle class. It is important that, whatever amount the fines for parking infractions is changed to, they be based on real metrics of what that infraction actually costs the city or what amount would be an effective deterrent, rather than the seemingly arbitrary amounts that are set currently.
2) Should the city extend its free Pickup shuttle all the way to La Brea Avenue, and should it offer it on other than weekend nights?
LARRY BLOCK
The six-month pilot program has long passed.    It's time to make the decision to expand the PickUp line or cancel the program.   If we feel this pilot program has worked, then we need to expand it.   If we are not sure if it's working lets debate the pros and cons.   If we deem it to be a community benefit then it must be expanded to all the residents on the Eastside.    Personally I am for the PickUp line but often see an empty bus and wonder if there is a better way.   My pulse is that ridership peaks in the summer and is lower for the better part of the year.   Our costs for running the PickUp line are the same for 10 riders or 100.   Judging from the statistics of the ridership,  we might save money by issuing $10 vouchers to each rider and giving the private sector and the shared economy businesses the opportunity to fill the void.
COLE ETTMAN
West Hollywood should do everything it can to provide transportation options for its residents to conveniently travel throughout the city.
The CityLine bus does not serve the majority of our community nor does it mitigate boulevard traffic.  Anyone who lives in West Hollywood should be able to eat, shop, work and play in our community without needing a car.  Anyone staying in one of our many hotels should be afforded the same opportunity.  Therefore I will work to expand the Pickup Line to be a city-wide local circulator that will include Sunset and Santa Monica Boulevards.
JOHN HEILMAN
We should extend the Pickup shuttle all the way to La Brea Avenue. Before we offer it on non-weekend nights, we should evaluate our other transportation needs. It might be a better use of our resources to provide a daytime shuttle to the Hollywood and Highland station for people who are commuting to and from work in the downtown area. This would help residents get to work and also reduce daily traffic to and from West Hollywood.
HEIDI SHINK
Yes, and I have long felt that this should have been done as soon as the Pickup was launched! In addition, I would fully support any efforts to expand the Pickup shuttle's hours as well as an extended route to the Eastside. As a means of getting from one end of the city to the other, the Pickup shuttle helps to remove cars from the traffic flow and reduce our overall carbon footprint, both of which benefit our city, both in the short-term as well as the long-term. Additionally, as one of the leading areas for alcohol-related vehicular accidents and fatalities in the county, I favor any and all ways to allow residents to return home safely during nighttime hours.