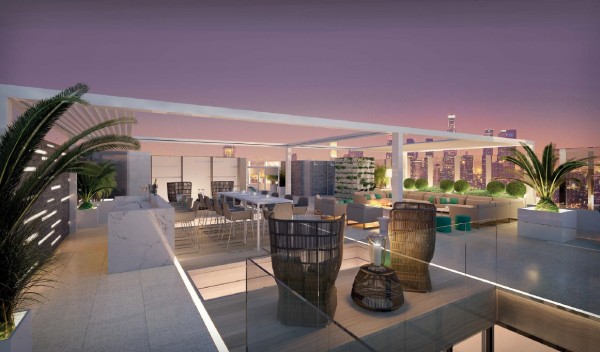 The London West Hollywood is wrapping up a $25 million renovation next month with the opening of what looks to be one of the most expensive hotel suites in the world.
The bi-level, 11,000-square-foot penthouse is priced at $25,000 a night (which will mean an additional $3,125 a night for the City of West Hollywood, which levies a 12.5 percent occupancy tax).
That price puts the penthouse suite within the list of "Top 10 Most Expensive Hotel Suites in the World," compiled by TheStreet.com, the investment website. If $25,000 a night sounds pricey, consider that No. 1 on The Street's list is the Royal Penthouse suite at the Hotel President Wilson in Geneva, priced at $67,000. That makes the London's penthouse suite a relative bargain, more on a par with the Royal Suite at the Hotel Plaza Athenee in Paris ($27,000 a night), and it means the London's penthouse edges out of 10th place the Apartment Suite at the Connaught Hotel in London, which is yours for only $23,500 a night.
And what justifies $25,000 a night? For one thing, the suite features the designs of Vivienne Westwood in collaboration with Richmond Design. "We were initially approached by The London West Hollywood to add inspiration to the penthouse with our prints and graphics," said Andreas Kronthaler, Vivienne Westwood design partner and creative director. "We have specially curated rugs, wall-hangings and soft furnishings to bring a subtle element of our brand to the luxury apartment. It's really exciting to see our designs translated into an interior space."
And then there's the scale of the suite. Guests will access the tenth floor penthouse through a private, contemporary-styled corridor that leads to a 6,000-square-foot suite with a 5,000-square-foot private rooftop terrace with panoramic city views. The outdoor terrace can accomodate 300 people. The interior features a master bedroom, media room, kitchen in addition to a "grand salon."
And if you can't quite swing $25,000 for a room for the night, there's always the three new Metropolitan guest suites on the hotel's second floor, which range between 1,600-2,200 square feet.
"We are proud to unveil the city's largest, most lavish and fashion-forward hotel suite, inspired by renowned designer Vivienne Westwood, and we look forward to impressing our discerning guests with all it has to offer," Jeff Kulek, the London's general manager. "The new penthouse, along with our three impressive new Metropolitan Collection suites, not only offer superior overnight accommodations, but also provide unparalleled entertaining opportunities found nowhere else in Los Angeles. "
The renovation of the London, which is at 1020 N. San Vicente Blvd. south of Sunset, is expected to be complete May 18 and includes a 110-seat screening room and a 2,600 square foot fitness center.