So what does it take to reform a dysfunctional and expensive five-member union at West Hollywood City Hall known for internal backstabbing and allegations of sexual impropriety?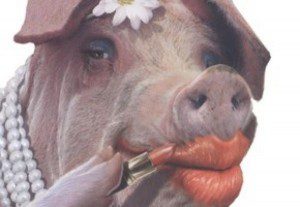 Clearly not the West Hollywood City Council. The Council on Monday will take up a proposal to deal with the controversial deputy system that is nothing more than putting some lipstick on a pig.
The proposal would have Council members review the time sheets of their deputies, some of whom have been accused of coming to work late and leaving early. However the Council members have full time jobs elsewhere, and the proposal does not call for on-site verification that the highly paid deputies actually work a full day.
The proposal calls for the deputies to meet weekly with the city manager or assistant city manager to discuss their schedules and activities. However it doesn't give the city manager greater control over five people known for sometimes acrimonious dealings with one another and other city staffers.
It also calls for the deputies to work with the city manager's staff in developing a new strategic plan for the city's growth and development over the next 20 to 25 years — work they would be expected to do anyway in a system organized to serve the residents of West Hollywood rather than the political aspirations of its Council members.
At its March 2 meeting, the Council punted on a proposal that called for freezing the hiring of new deputies and having the current deputies report directly to City Manager Paul Arevalo or someone designated by him. As is the case in some other cities, they would have been part of a pool of city employees available to assist the five Council members in scheduling meetings, researching legislative initiatives and responding to questions and concerns from local residents. At that meeting, the Council suggested it would review that proposal after the June 2 special election, at which point there will be a full five-member council.
But already it's clear the politically charged system will remain in place. Mayor John D'Amico has shown no sign that he will find someone to replace his deputy, Michelle Rex, his former campaign manager who has been at the center of some of the personal dysfunction among the deputies. Newly elected Councilmember Lauren Meister recently named as her deputy her campaign manager Scott Schmidt, a man better known for his political acumen than experience as a public servant. Newly elected Councilmember Lindsey Horvath is recruiting a new deputy, and the money is on her campaign manager, Estevan Montemayor. Councilmember John Duran continues to be served by Ian Owens, who he met on Grindr, the hookup app (which some now joke is the gay LinkedIn) and had sex with before hiring him.
Perhaps the winner of the June 2 election should ask Lisa Vanderpump, whose reality TV show "Vanderpump Rules" focuses on the internal shenanigans of the staff at her restaurant, to do the recruiting.  Then Deputygate will continue its long and expensive run as West Hollywood's version of a reality TV show, and we residents of West Hollywood can stay tuned for more comedy and drama as the year rolls on.