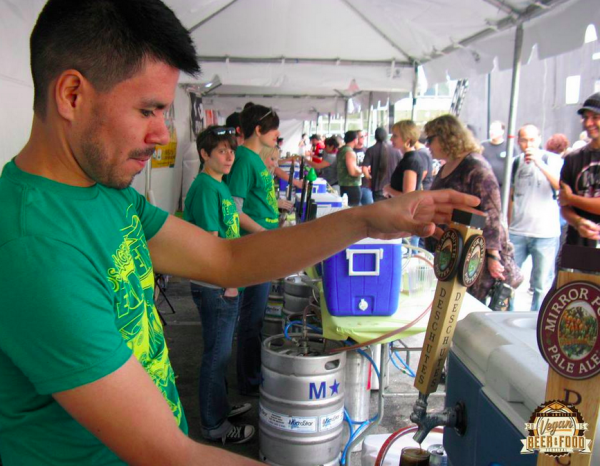 The Vegan Beer Festival, one of the only successful events on the Sunset Strip, is moving to Pasadena.
The festival got its start six years ago behind the Roxy on Sunset Boulevard. It was created by Nic Adler of the Roxy, a longtime vegan, Tony Yanow of Tony's Darts Away and Quarry Girl, the anonymous blogger(except to Nic and Tony and friends), whose QuarryGirl.com is one of Southern California's most popular sources of information on vegan food.
It quickly outgrew that location. Last year it was held at 8950 Sunset Blvd. between Hilldale and Hammon (the site of the old James Hotel), where it could accommodate more than 3,000 attendees. Vendors included 42 craft breweries and 31 restaurants.
"It's become known as a great beer festival," Adler said in an interview with WEHOville last year. "The non-vegans have completely accepted it. It's one of the most popular beer festivals in LA."
As of publication WEHOville has been unable to reach Adler for a comment on why the festival is moving. This year's festival will be held on May 16 on the Rose Bowl grounds.
The Vegan Beer Festival is one of the few successful events on The Strip, which increasingly is being characterized as a location for hotels rather than rock and roll nightlife. Last Fall's Sunset Strip Music Festival posted losses triple those of the year before according to financials provided to the City of West Hollywood. The festival, an annual event of the Sunset Strip Business Association (SSBA), lost $1.045 million.
Previous losses of $350,000 in 2013 and $432,000 in 2012 had led the West Hollywood City Council to consider putting the 2014 event on hiatus.
This year a new event will come to Sunset Boulevard on April 19 when RaceForce will stage the first Sunset Strip Half Marathon. City Council members hope that race and a 5K competition eventually will draw significant out-of-town visitors to the Strip and its hotels and bars and restaurants.
RaceForce has asked the city for permission to erect five stages at which performances will be held during the event. One would be located at West Hollywood Park for performances from 11 a.m. to 1 p.m. on April 18 and 8 to 11 a.m. on April 19. The others would be in operation only on April 19 and are as follows: Sunset and San Vicente boulevards for performances from 8 to 9:30 a.m.; at Sal Guarriello Veteran's Memorial Park on Santa Monica Boulevard near Holloway from 8 to 11 a.m.; at the intersection of Olive Drive and Sunset Boulevard from 8 to 9:30 a.m., and at the intersection of Santa Monica Boulevard at Fairfax Avenue. from 8 a.m. to 9:30 a.m.
RaceForce also is asking the city to suspend residential parking permit enforcement from 7 a.m. to 3 p.m. on April 19 and suspend parking meter enforcement from 11 a.m. to 3 p.m. that day. And it is asking that holders of residential parking permits be permitted to park in adjacent parking districts from 7 p.m. April 18 to 7 a.m. April 19. All-in-all, the city is being asked to waive $54,000 in permit and parking closure fees for the event. The request will go before the City Council on Monday night for approval.