It looks like the southeast corner of Sunset Boulevard at Hilldale is yielding some sass for class.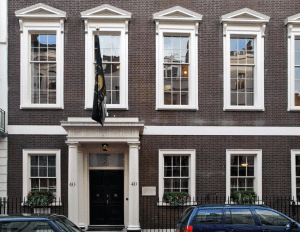 According to the celebrity news site TMZ, Gwyneth Paltrow has purchased the site where the Hustler adult store now stands and plans to turn it into an upscale private club.
TMZ says the actor and her business partner, Gary Landesburg, plan to demolish the Hustler building, noted in part for its "porn star walk of fame", which features the handprints and footprints of ten adult film icons such as Jenna Jameson, John Stagliano and Ron Jeremy (we're seeing a petition to the Historic Preservation Commission soon). They will replace it with a version of London's Arts Club, of which Landesburg is chairman and Paltrow is a member. The members-only London Arts Club was founded in 1863 by a group that included Charles Dickens and Anthony Trollope.
While the Arts Club in London is exclusive and expensive (membership is said to cost $2,000 a year), its dress code is relatively relaxed like that of the Soho House, also founded in London, whose 13 locations include one at 9200 Sunset Blvd. in West Hollywood. TMZ notes that the London Arts Club is home to a restaurant and lounge and prohibits swearing. To become a member one must be nominated by an existing member and participate in or have an interest in art, literature or science.