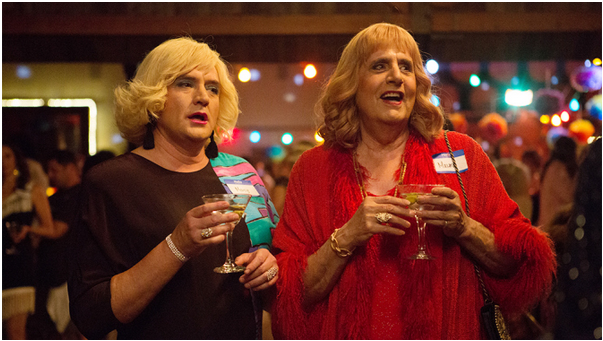 The transgender cast and crew of Amazon Studios' hit series "Transparent" is one of the winners to be honored at the Gay Men's Chorus of Los Angeles's 4th annual Voice Awards celebration.
This year's event will take place May 3 at the Globe Theater in Universal City. It will feature performances by openly gay country artists Ty Herndon, Billy Gilman and Chely Wright.
"This year's slate of honorees recognizes some of the most inspiring individuals and institutions that I know," said Chris Verdugo, the executive director of GMCLA. "Whether it's turning tragedy into teachable moments, rising tall amongst corporate leaders or impacting communities both locally and nationally, each one uses their voice to create long-lasting transformation on a global scale,"
The "Transparent" cast and crew will receive the Outspoken Voice Award. The show won two Golden Globes, including Best TV Series – Comedy or Musical and Best Performance by an Actor in a TV Series – Comedy or Musical. The series stars Jeffrey Tambor as the father of adult children who comes out as a transgender woman at the age of 70. The show features the largest transgender cast and crew of any production in Hollywood.
Other awards are the:
Voice Inspiration Award – Presented to the family of Tyler Clementi, the 18-year-old who took his own life after being cyber-bullied during his first few weeks in college. The Clementi family formed the Tyler Clementi Foundation in the wake of Tyler's tragic suicide. Their mission is to promote safe, inclusive and respectful social environments in homes, schools, campuses, churches and the digital world for vulnerable youth, LGBT youth and their allies.
Good Neighbor Voice Award – Presented to Alan Uphold and Jeff Olde, who have worked to further LGBT justice and equality throughout their 18-year relationship. Uphold began as a communications volunteer for Project Angel Food in 1990 and has since served more than 15 years on the boards of the Human Rights Campaign and Equality California. Until recently, he was development director/ West for the Point Foundation. Olde is a television executive and Peabody Award-winning producer who, for 25 years, has been a champion of LGBT talent, characters and storylines spanning reality, pop culture, news, comedy and scripted programming. They have volunteered at LGBT events, performed community outreach and lobbied politicians for LGBT rights. They have chaired or hosted events in their home for LGBT groups including APLA, EQCA, HRC, No on 8, PFLAG, the Tyler Clementi Foundation, Stonewall Young Democrats and numerous equality-minded politicians.
Corporate Voice Award – Presented to First Investors, a Foresters company and the ceremony's presenting sponsor. Since 1930, First Investors has offers an array of financial products and services. They also offer unique member benefits (i.e. grants and scholarships) and allow members to participate in community activities.
Other sponsors are HBO, AIDS Healthcare Foundation, O'Gara Coach Co., Amazon Studios, IAC, Collins Avenue, and Athens Services and ACE Outdoor.
Individual tickets are $400; VIP tickets are $600 and include a private reception presented by KLEAN Treatment Center on May 2 with the honorees. Table sponsor packages are also available. Tickets can be purchased online.