The City of West Hollywood's decision to extend parking meter hours in the city's busiest nightlife and dining areas has been a success according to a study by Civic Enterprise Associates, a Los Angeles consulting firm.
The study, conducted between March 19 and March 28, showed the average length of stay in a parking space on Thursday and Saturday nights was two hours. "Prior to the extension of the meter hours, meters were fully occupied after 6 p.m. primarily by one car," says a summary of the study by the city's Department of Public Works. "Now we find cars are turning over every two hours."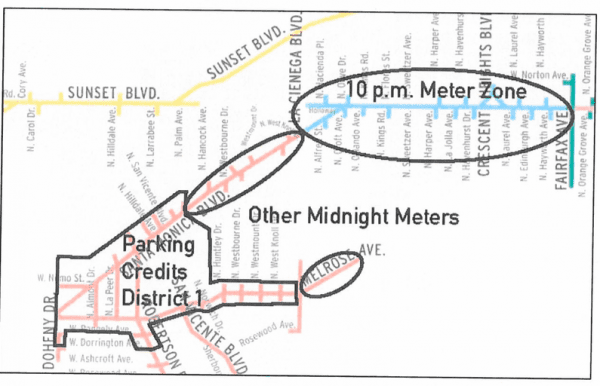 The City Council approved extending meter hours in April 2013, with enforcement beginning on Sept. 9 that year.
The extension means that those parking on Santa Monica Boulevard from Doheny Drive to La Cienega Boulevard are required to pay the meter until midnight instead of six p.m., as was the case previously. From La Cienega to Fairfax Avenue, meters fee now are charged until 10 p.m. and from Fairfax Avenue to La Brea until 8 p.m. (there are some exceptions, see accompanying map). The cost per hour at WeHo meters is $1.50. Parking fees continue to be charged until 2 a.m. at meters on Sunset Boulevard, a rule that went into effect in 2001.
In addition, parking fees now are charged at meters across the city on Sundays from 11 a.m. to 8 p.m. Parking at metered spaces on Sundays previously was free.
The study cited several advantages of the meter enforcement extension. They include:
— More competition for private off-street parking lots, which now have to compete with more available metered spaces. That competition reduces "price gouging" by them, the study says.
— A reduction in the number of parking tickets issued to cars without permits parked in residential permit districts. The overall reduction was eight percent, with some districts seeing reductions of 27 percent.
— A reduction of 30 percent in the number of vehicles towed for illegal parking.
The study notes that the point of extending meter hours and increasing parking over was to reduce traffic congestion caused by cruising for parking and cars blocking lanes while waiting for a parked car to move. The extension also is intended to reduce speeding on residential streets by drivers facing traffic congestion on commercial thoroughfares such as Santa Monica Boulevard and to improve traffic for local businesses by making parking easier to find.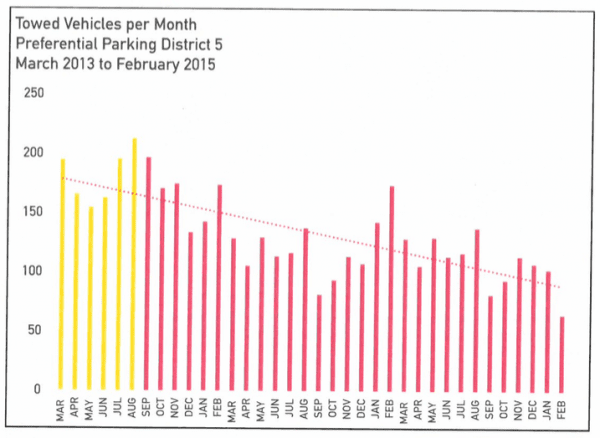 Civic Enterprises (CE) also studied the city's parking credits program, which was implemented in July 2012. That program allows new and expanding businesses to meet requirements for providing parking by purchasing "credits," the number of which is determined by studies of available parking spaces on streets, in private lots and in parking structures such as the one at El Tovar and at the Pacific Design Center.
There currently are 22 businesses participating in the program with a total 603 parking credits. Most of the credits have been issued to restaurants (41 percent) and retailers (45 percent). Sixteen of the businesses that have purchased parking credits are in operation and six are set to open in the future.
The parking credit study found that peak demand on Saturday was between 11 p.m. and midnight, well below the 85 percent capacity threshold established by the city. Because of that, the Department of Public Works says it is able to issue additional parking credits.
March and April survey by CE showed occupancy in city's municipal lots at about 85 percent but that none of the 400 spaces available at the Pacific Design Center were being used. The parking credits are for businesses whose customers or employees are likely to park in a zone bounded roughly by Doheny on the west, Rangely and Melrose on the south and extending to Santa Monica Boulevard to the north with an eastern boundary at Huntley Drive. That area includes 560 on-street parking spaces, some of which are used for loading zones and taxi and valet stands, leaving 520 available to automobiles.
Extending the parking meter hours was controversial. Mayor John D'Amico opposed the extension when the Council considered it last year. And two candidates in the June special election for a City Council seat, Larry Block and Cole Ettman, have called for the meter hours to be rolled back to 8 p.m. Lauren Meister, who won election in March to the Council, also recommended rolling back the marking enforcement time to 8 p.m.
The study will be presented to the city's Transportation Commission at its meeting at 7 p.m. Wednesday at Plummer Park Community Center, 7377 Santa Monica Blvd.