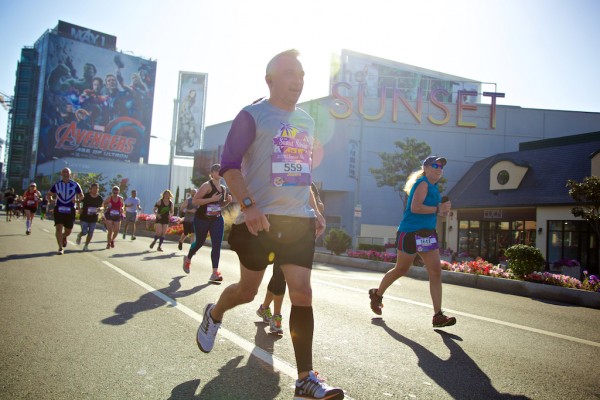 Several thousand runners participated today in West Hollywood's first annual half-marathon and five kilometer races.
The Sunset Strip Half Marathon, which started at San Vicente Boulevard at West Hollywood Park, took the runners on a 13.1 mile route covering parts of Sunset, La Cienega and Santa Monica boulevards and Melrose Avenue. The half-marathon started at 7:30 a.m., necessitating street closures throughout the city. All but San Vicente Boulevard between Santa Monica and Melrose, where the race ended and a concert took place, were open to traffic by 11:30 a.m.
The top male finisher was Edy Hernandez, 22, of Anaheim, with an official finish time of 1:17:33. The top female finisher was Christina Vergara-Aleshire, 33, of Las Vegas, with an official finish time of 1:22:23.
Observers estimated as many as 2,000 runners participated in the event. While RaceForce, the company that put on the race, is a for-profit entity, participants were able to raise funds for local charity partners including the House of Blues Music Forward Foundation, Team To End AIDS and the Institute for Myeloma & Bone Cancer Research. Runners paid $70 to participate in the half-marathon and $40 to participate in the 5K race.
In February the City Council at the behest of Mayor John D'Amico and Councilmember John Duran approved a three-year agreement with RaceForce to stage the event. The goal is to attract visitors to West Hollywood who might spend the night at local hotels and otherwise boost the local economy.