Shake Shack, a popular East Coast fast food chain, is opening its first California restaurant in the long-empty space on Santa Monica Boulevard once occupied by Koo Koo Roo.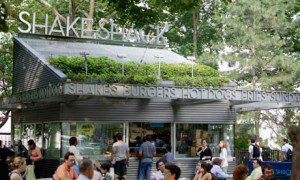 "We've heard from our West Coast fans for years that they'd love a Shake Shack in California, and at long last, we're delighted to say Shake Shack LA is on its way," said Randy Garutti, Shake Shack's CEO.
Garutti said the WeHo Shake Shack would open sometime next year in a new building designed by Michael Hsu Office of Architecture. "The architecture of the first LA Shack will build on Shake Shack's history of creating restaurants with leading-edge design," the company said in a press release. The restaurant will have dedicated parking and a large outdoor patio.
Shake Shack offers 100 percent antibiotic- and hormone-free Angus beef burgers, hot dogs and fries along with beer and wine. In New York City it is known for the long lines of customers who gather outside it at Madison Square Park.
Located at 8520 Santa Monica Blvd. at its intersection with West Knoll Drive, Shake Shack will be the latest development to invigorate a prominent but empty space on the city's main thoroughfare. The city also has approved a development just to the west at 8550 Santa Monica Blvd. that will include a grocery store, a gym/fitness studio, a restaurant/cafe and office space with rooftop parking. The 20,000-square-foot grocery store space would be occupied by Sprouts Farmers Market, a Phoenix-based chain that sells natural and organic food.