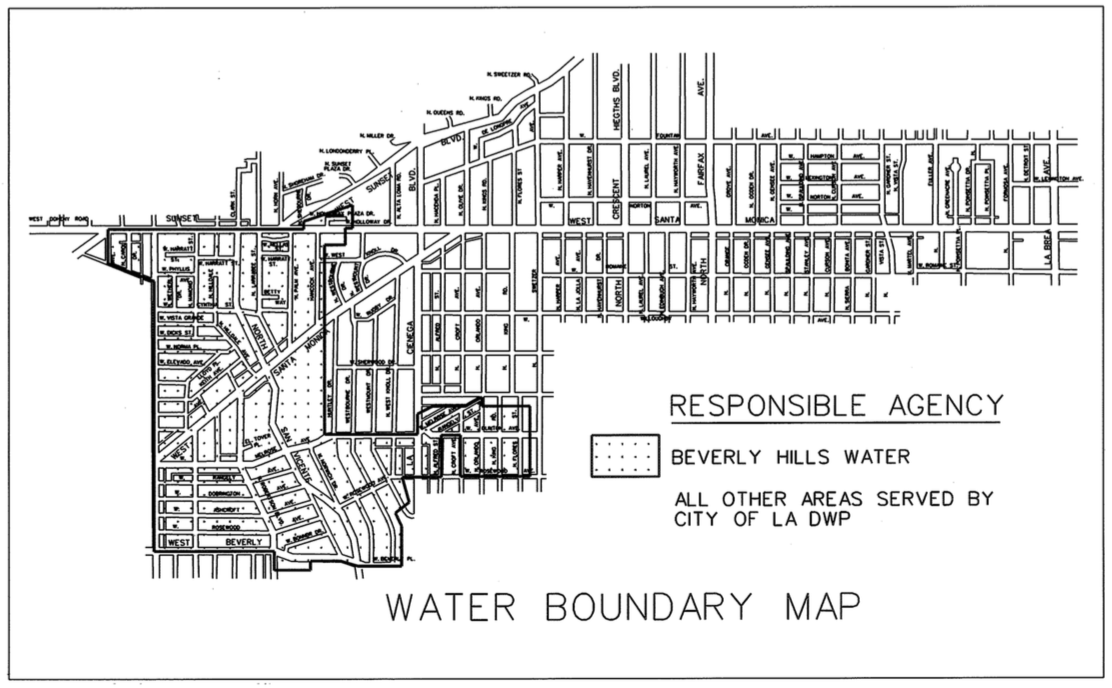 Residents of West Hollywood's Westside are facing much tougher restrictions on water usage than those in other areas of WeHo.
Those restrictions include limiting the watering of lawns to no more than two days a week, a ban on washing cars with potable water and a $1,000 fine for draining and refilling swimming pools. Residents who use excessive amounts of water also may have to pay a surcharge for their water usage.
The strict new conservation measures were imposed by the Beverly Hills City Council in response to the state-wide drought and a projected 15 percent cutback in water delivery from the Metropolitan Water District, which supplies 90 percent of Beverly Hills' water. WeHo's Westside residents get their water from the City of Beverly Hills. Residents of the rest of West Hollywood are served by the Los Angeles Department of Water and Power (LADWP).
Water usage varies according to time of year, with more water typically used during periods of warm weather. Overall Beverly Hills (and thus West Hollywood's Westside) has one of the highest rates of water usage in California — 216.6 gallons a day per resident in September, for example, compared to 78.9 gallons in Santa Barbara. Because of that level, the state is requiring Beverly Hills to reduce water usage by 36 percent.
A factor in water usage is the density of a community. Areas with a large number of single-family homes, such as much of West Hollywood's Westside, typically consume more water than areas more density populated by apartment dwellers, as is the case on the city's Eastside. That's because homeowners are more likely to have lawns to water and individual swimming pools. According to figures provided by Beverly Hills, residents of West Hollywood's Westside actually use more water per capita than do those of Beverly Hills proper. The daily average usage for Beverly Hills in September was 214.2 gallons per capita compared to 227.1 gallons per capita in West Hollywood. In February the Beverly Hills usage was 160.1 gallons compared to 169.7 in West Hollywood.
The LADWP, which serves a much larger geographic area, told WEHOville that it is not able to break out figures for water consumption by its West Hollywood residential customers. Its overall lower per capita daily usage means the state will require it to reduce consumption by 16 percent.
The Beverly Hills City Council also is considering implementing a system in which a surcharge will be added to the bills of those who use large amounts of water. The legality of such a surcharge currently is under investigation. All residents except for those in the lowest tier of water users are expected to reduce their use to 70 percent of the amount in a baseline period that the Council will determine.
The Beverly Hills City Council imposed the water use restrictions at its study session last week and is expected to formally approve them at its formal council meeting on Tuesday. At that point, all restrictions immediately will be enforced. Other rules include the following:
Restaurants can serve water upon request only.
All public restrooms in the city and private bathrooms in hotels must notify patrons and employees of water conservation goals.
Plumbing and irrigation leaks must be repaired as soon as practicable.
The washing of building exteriors and cars will be prohibited, unless:
— The washing is done at a commercial car wash or commercial service station or with reclaimed wastewater, and,
—The health, safety and welfare of the public are deemed to be contingent on frequent vehicle cleaning, which would apply to the cleaning of garbage trucks and vehicles to transport food and perishables.
The LADWP has allowed watering of lawns three days a week. But last week its board of commissioners approved new water conservation rules that would let the Los Angeles City Council restrict watering to two days a week and would require that all pools be covered to reduce evaporation. The West Hollywood City Council has agreed to follow water restrictions enacted by the city's water providers.
Water usage surcharges, if enacted, could be a major burden on owners of older and rent-stabilized apartment buildings where apartment units do not have individual meters. Without such meters there would be little incentive for inhabitants to reduce their water usage.