"Riddle me this," a Batman nemesis might ask if he was watching the mother of all droughts unfold across California's geographical and political landscapes. "How can West Hollywood meet state-mandated emergency water restrictions with dozens of large-scale projects beginning construction or pending approval?"
Okay, that's not exactly a riddle, and I'm not exactly Batman. But I do know the answer. Put a time-limited moratorium on all new construction citywide so we can re-examine priorities for urban development and density.
This would conserve millions of gallons of water until the rains come again and mandatory water usage cutbacks are lifted. It's perfectly legal – the City Council has the authority under state law – California Code Section 65858, which allows for an immediate moratorium on new building.
It only takes a quick look at the city's online tool for tracking all commercial and residential developments to see the potential water savings. There is a stunning – and almost shocking – number of projects proposed or well underway in West Hollywood.
'Untrammeled' Appetite for Development
During public hearings associated with the adoption of the city's housing element, West Hollywood citizens repeatedly questioned – and found disturbing – the level of development throughout the city.
The larger point at issue here goes directly to what has been characterized by some as an "untrammeled" appetite for infinite growth and development throughout California. Millions of gallons of water will be needed to build these developments, both large and small. Given that some of them are questionable, we need to re-examine the issue of development, whether it is residential, commercial or recreational. A moratorium on new construction is the appropriate first step towards accomplishing such a review.
Water has always been a seminal issue in California. Whether this is the worst drought in a century or a millennium, it is incumbent upon us to re-examine our priorities with respect to urban development and density.
As useful as the online tracking chart is, the city falls woefully short when it comes to actually conducting the due diligence that determines (1) what the cumulative impacts are of so many developments, (2) how development will affect residents, and (3) whether the aging infrastructure underneath our streets can accommodate more growth.
North Kings Road Under Siege
A perfect storm of development, density and denial is forming over North Kings Road that illustrates why a moratorium is needed. Four new apartment buildings are proposed for a three-block area between Waring Avenue on the south and Santa Monica Boulevard on the north. Together, they would add 130 new units to an already densely populated area; eliminate any scarce street parking that might still be available; and tax an already creaky infrastructure far beyond current capacities.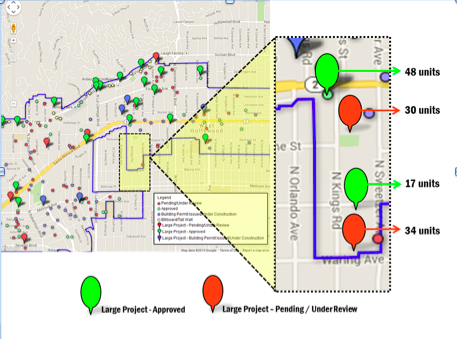 This illustration – adapted from the Infomap tracking tool – illustrates the vortex that's forming now. One of the four buildings in particular is the poster child for this unplanned, unsound and unsafe situation.
The proposed 826 N. Kings Rd. apartment building, with 34 units, is representative of what, in the face of this unprecedented drought, has become emblematic of an outdated ambition to foster unrestrained growth in California. As a density bonus project:
• It has taken full advantage of numerous concessions that allow it to be so outsized and under-parked that it threatens the existence of two of the city's most important historic sites, the world-renowned Schindler House and the historic Charlie Hotel (site of Charlie Chaplin's writing studio), and
• It threatens the city's ability to ensure the public safety and delivery of services such as fire and ambulance, and it cannot even ensure that the building can be successfully completed and occupied as water delivery may not be guaranteed to new developments.
The 826 building would be far larger – at five stories – than any other structure in the extended neighborhood. Its design also is out of character with the low-profile buildings in the area.
City Planners' Denial Kicks In
It gets worse, though. The Planning Commission says an Environmental Impact Report (EIR) isn't needed for the 826 building – or for any of the other three proposed projects for that matter. Each was reviewed individually without any consideration whatsoever for overall traffic impact, increased water usage or whether building sites are home to any threatened or endangered species.
In what universe is an EIR not conducted for four developments that literally are within a few yards of each other?
Off-street parking is another area where city planners are in denial. The city is exempting developers from providing the number of off-street parking spaces required by the Zoning Ordinance. The 48-unit, mixed retail and residential development at 8350 Santa Monica Blvd., for example, is getting away with only 70 spaces when 86 are required.
Planners aren't requiring any parking at all for the "affordable" units in this building. Somehow, they're operating under the belief that the low and/or moderate income occupants of those units don't have cars or guests or care givers or deliveries.
California's worsening water crisis obviously demands innovative solutions and greater flexibility by city planners. We don't need Batman to solve the development and density issues residents of both affordable units and market rate units face citywide – but we do need for the City Council to do the right thing. Tough times require tough measures.
We're asking the City Council to require an Environmental Impact Report for the proposed 826 N. Kings Rd. apartment building and to impose a citywide moratorium on all new construction until there's a plan in place that balances development and drought issues. The City Council meets May 4 when the 826 N. Kings Rd. building is on the agenda for review.
Cynthia J. Blatt is a resident of North Kings Road and founder of United Neighbors for Responsible Development, a grassroots coalition that is appealing the Planning Commission's favorable recommendation of the 826 project.