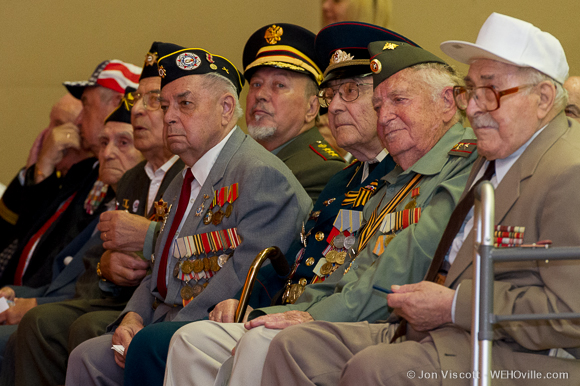 From this Saturday to next the City of West Hollywood will celebrate its Russian-speaking community with events planned throughout the week. Immigrants from regions of the former Soviet Union account for a significant portion of the population of West Hollywood. Each year in May, the city's Russian Advisory Board presents a series of events that engage the Russian-speaking community, as well as the community at-large, with Russian heritage and culture.
A full schedule of event listings is available on the City of West Hollywood's website at www.weho.org/russian.
This year's May event line-up includes these highlights:
1) The Russian Arts and Culture Festival is a day of family-friendly events celebrating the rich culture and heritage of the more than 500,000 members of the Los Angeles region's Russian-speaking community. The Festival will take place on Sunday from 11 a.m. to 7 p.m. at Plummer Park, 7377 Santa Monica Blvd. The Festival is free to the public and will include a day of entertainment, music, food vendors, Russian crafts and jewelry, and numerous local exhibitors. There will be Puppet Theater on Wheels at 11 a.m; an opening ceremony at 11:30 a.m.; the annual Children's Concert from noon to 2 p.m. and concert from
4 p.m. to 6 p.m.
2) The 10th annual Russian Community Awards will take place on Tuesday from 7 to 9 p.m. at the City Council Chambers, 625 N. San Vicente Blvd. Free validated parking is available in the five-story parking structure. The city's Russian Advisory Board has established three awards to recognize individuals, businesses and organizations that have had a positive impact and bettered the lives of members of the Russian-speaking community in West Hollywood and the Los Angeles region. At 5 p.m., there will be a screening of the film "The Desert of Forbidden Art" in the Council Chambers. How does art survive in a time of oppression? During Soviet rule, artists who stayed true to their vision were executed, sent to mental hospitals or sent to gulags. In "The Desert of Forbidden Art" young Igor Savitsky daringly rescues 40,000 forbidden fellow artists' works and creates a museum in the desert of Uzbekistan. After the screening, awards will be presented at 7 p.m. during an official ceremony; the event will feature food and live entertainment.
3) The 70th anniversary of Victory in Europe Day will honor Russian-speaking community members who are veterans of the Soviet military of World War II and who have contributed socially, culturally, and civically to the City of West Hollywood. Victory in Europe Day, generally known as V-E Day or VE Day, was the public holiday celebrated on May 8, 1945, to mark the Allied Forces' formal acceptance of Nazi Germany's unconditional surrender, which marked the end of World War II in Europe. Since the Soviet Union is geographically located east of Europe, the German military surrender became effective on May 9, 1945, Moscow-time — this is why Russia and most of the former Soviet republics commemorate Victory Day on May 9, rather than on May 8. The Victory in Europe Day event will take place on May 9 at 11 a.m. at Plummer Park's Fiesta Hall. Admission is free.
According to a 2013 survey of the community in West Hollywood, there are 3,872 people who live in WeHo who identify a former region of the Soviet Union as their primary ancestry. This represents approximately 11 percent of the city's total population of 34,399 people.
For more information about Russian-themed events in May, please call Tatiana Rodzinek, Russian Community Outreach Coordinator, at (323) 848-6826. For people who are deaf or hard of hearing, please call TTY (323) 848-6496.