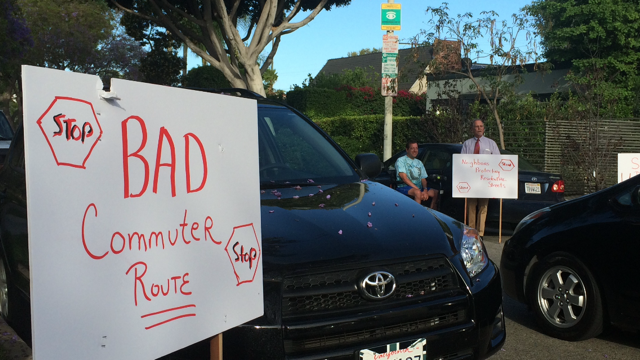 A West Hollywood resident has organized a campaign against the so-called "Waze Craze" that is upsetting people in some residential areas by diverting commuters down residential streets.
During rush hour on Thursday Joel Becker, a resident of Ashcroft Avenue, took to the street with Joel Ring to hold up a sign asked drivers to slow down. Becker also sought signatures from residents on a petition to the West Hollywood City Council asking the city to devise "traffic calming" measures for Ashcroft, which he said are increasingly necessary because of the cars directed down that residential street by the Waze app. Such measures could include the installation of road bumps to slow traffic and make the street less desirable for motorists in a hurry.
Waze is a smartphone app owned by Google that collects the traffic patterns of its users and uses them to recommend faster ways to get from point A to point B. If one route is too crowded, Waze will recommend a less crowded one, which may well divert a driver off a commercial street and through a residential neighborhood.
Becker said Ashcroft residents have noticed an increase in cut-through traffic on their street that they attribute to Waze. "This (traffic) did not exist before that app existed," he said. Ring, an Ashcroft neighbor, agreed, saying "I don't feel safe during rush hour."
Waze recently entered into a partnership with the City of Los Angeles which will share information with the app about construction, film shoots and other traffic slowing events. In exchange, Waze will provide real-time information to the city about traffic patterns and conditions. In the future, the City of Los Angeles might be able to use Waze to let its residents request street repairs and other services now submitted through its 311 system. An estimated 1.3 million Los Angeles residents use Waze.
However those who want to limit the traffic that Waze sends through their neighborhoods can sign Becker's petition to the City Council by emailing the West Hollywood West Residents Association at whwra90048@gmail.com. Each block in the neighborhood would have its own traffic calming measures implemented.