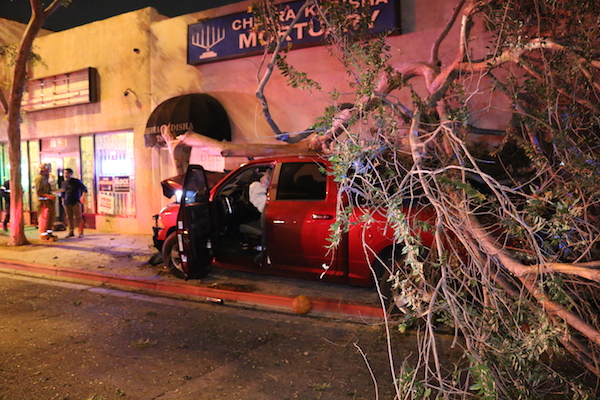 Eastbound lanes of Santa Monica Boulevard near North Orange Grove Avenue in West Hollywood were closed for several hours early this morning because of a single-car collision in front of Chevra Kadisha Mortuary.
Sgt. Kevin Rasmussen of the West Hollywood Sheriff's Station said the driver of a pickup truck was arrested for driving under the influence. The accident occurred at approximately 3:30 a.m. and Santa Monica Boulevard eastbound lanes were closed until 5:45 a.m. According to a photo taken at the scene the truck crashed into a tree on the sidewalk.
People on the scene said the driver and a passenger were taken by ambulance to the hospital. Rasmussen said their condition was unknown.
Another incident this weekend closed La Cienega Boulevard at Santa Monica for several hours beginning a little after 1 a.m. on Saturday and also disrupted electrical service. According to the Sheriff's Station someone on a power pole was electrocuted by a transformer and fell off the pole. He was transported to Cedars-Sinai Medical Center. Neither the Sheriff's Station nor the L.A. County Sheriff's Homicide Bureau could confirm whether he died or otherwise explain the circumstances of that incident.