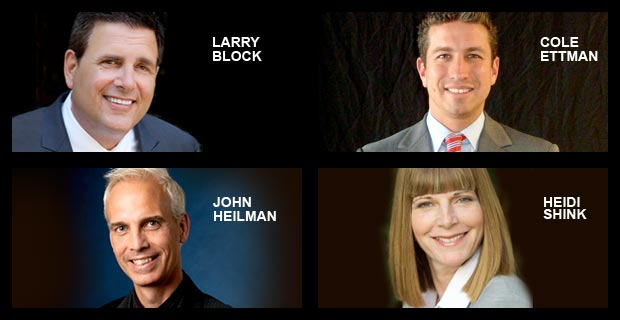 In early December, WEHOville asked West Hollywood residents what issues they wanted candidates in the upcoming City Council election to address. We received hundreds of responses and boiled them down to 13 key issues. We have asked each of the four candidates in the June 2 special City Council election to offer his or her positions on these issues. On each Monday through today we have published one or two of the questions and the candidates' responses. On March 23, candidates addressed traffic issues. On March 30 candidates answered questions about parking. On April 6 they talked about pedestrian safety issues and the City Council deputy system. On April 13 the candidates answered questions about historic preservation and development. On April 20 candidates discussed issues regarding campaign finance reform. On April 27 the candidates discussed affordable housing. Today, in the last of the series, the candidates discuss the Sheriff's Department's services and local sports facilities.
Beverly Hills, a city of roughly the same population as West Hollywood, has its own police department. Given incidents such as the shooting by deputies at 939 Palm and allegations of anti-gay behavior raised by the L.A. LGBT Center a few years ago, should West Hollywood have its own police department
LARRY BLOCK
I do not believe West Hollywood needs to have its own police department. Funding and running our own police department and the bureaucracy that entails will cost us more than our current $18 million. One of the most expensive budget items is employee pensions, and our own police department would also need its own pension plan. As a small city we can update our contract to leverage any special needs.
Also, having our own police department does not guarantee that we will have better results. While there have been instances of problems with our sheriff's station my personal experience with Capt. Gary Honings and Lt. Dave Smith are that they both lead the force with strength and compassion.
Last week at the L.A. County Sheriff's Department Oversight Commission meeting at the West Hollywood Library many citizens came to talk about racial profiling as well as ways to improve communication. The goal of the Oversight Commission is more transparency. We need more transparency in a) public confidence in our sheriff and b) subpoena power of the Oversight Commission. With these tools the public will develop a stronger sense of comfort with the Sheriff's Department overall.
COLE ETTMAN
No. The City cannot afford the expense or liability of having its own police department. With a rising crime rate, what we need are more deputies on the beat to prevent robberies and violent crime, and increase traffic enforcement. The best way to handle any issues between law enforcement and the LGBT community is to forge a meaningful, ongoing dialogue with our local deputies. With new leadership, we can help build a stronger relationship between residents and deputies for a safe community.
JOHN HEILMAN
No response.
HEIDI SHINK
No. While I understand why that would seem like an appealing idea, a West Hollywood Police Department would simply be economically unfeasible. Aside from the costs of establishing an infrastructure (buildings, equipment, a fleet of vehicles, etc.) and the cost of training, the most pressing expense would be the public pensions, which would be part of the officers' contracts. As a contract city, we get a good deal financially from the Los Angeles Sheriff's Department, and the level of services provided would not be ones that we could afford were we to establish our own police department.
That being said, there is much that we can do to improve the quality of policing that we receive. In response to the alleged anti-LGBTQ behavior by some ceputies, I would implement mandatory trainings which would focus on our gay, lesbian, bi-sexual and transgendered residents. Additionally, because of the marked uptick in crime that has been reported— especially on the Eastside and the in the nightlife and entertainment districts— I would push for increased patrols citywide. I will also work with the Sheriff's Station to expand the community oriented policing ("COPs") program and integrate that program with our Neighborhood Watches to foster closer communication and relationships between residents and deputies.
The city is spending more than $10 million an acre to redevelop West Hollywood Park, yet it provides no place for most local sports leagues to play. Does that make sense to you? And if not, how would you propose the city address that issue?
 LARRY BLOCK
 Above question is only partially true. The new gymnasium will allow for dodgeball and other indoor sports leagues. It does not have a baseball field, and I hope that the park can be adapted to create a space for some special events. At the West Hollywood Park design review I suggested spacing the trees so that the open field could be adaptable for special events and perhaps a baseball field too.
We need to look at our overall park land and make sure we can meet the needs of all our residents in our parks. That includes basketball, swimming, tennis, baseball or soccer, dodge ball, and some space for our dogs to run. Dog parks need to be park of our park plans throughout the city.
COLE ETTMAN
 No, it does not make sense. Rather than have the support we deserve from our city, we had to fight them tooth and nail to get a dog park included in their plans for a glass and concrete events center. We should not make generating revenue the basis of developing spaces that are meant for the enjoyment of residents.
How these decisions get made – without meaningful public input and guidance – seriously undermines public trust and threatens the credibility of our elected City Council. Planning for a project of this importance and magnitude should begin and end with full public participation in the decision-making process. No more, no less.
There is no effort on behalf of the Council to identify and develop substantial additional green spaces for our community that include outdoor recreation. I plan on increasing opportunities for residents of ALL ages to partake in recreational, educational and community building activities.
JOHN HEILMAN
 No response.
HEIDI SHINK
CitiWhile West Hollywood Park is a wonderful public facility, I believe that there are better ways in which we can spend our money, especially given the lack of areas for local sports teams to play.
I have long been a proponent of pocket parks as a way to get the maximum recreational value out of minimal space, and while pocket parks may not always be large enough to accommodate sports that require a large playing area (e.g. football), many other sports can be played in them. However, with open green space at such a premium, I do believe that we need to start examining where and how we can provide more sports-oriented recreational facilities for our residents, even if that means indoor facilities.