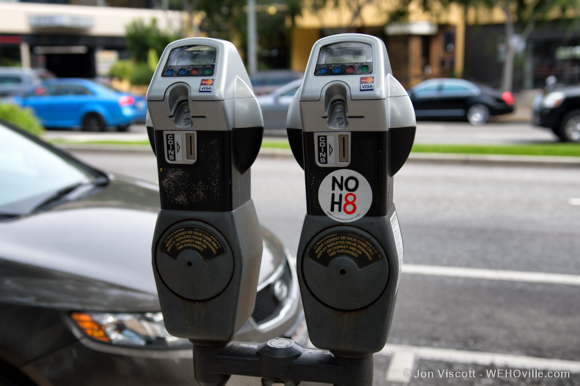 The West Hollywood City Council tonight will be asked to consider implementing major changes in the city's parking policies that include rolling back parking meter enforcement from midnight to 8 p.m. Mondays through Saturdays and making street parking free on Sundays in most areas of the city.
The proposal, initiated by Councilmember Lauren Meister with the support of Councilmember John D'Amico,  would create a  subcommittee to study the following ideas:
— Reduce some and increase other parking fines. Fines for violations such as parking too long in a metered spot or parking one's car outside the lines that mark a parking space would be reduced from $53 to $36. Fines would be increased for more egregious parking violations such as parking in a bicycle lane, parking in an intersection or crosswalk or parking in a peak traffic hour zone, when parking is barred to improve traffic flow. The bike lane parking fine would increase from $56 to $83. The fine for parking in an intersection or crosswalk would increase from the current $66 to $118. The fine for parking in a peak hour traffic zone would increase from $63 to $157. Fines for parking in a residential parking district without the correct permit would be increased from $58 to $69.
— Fine a driver $36 if he remains in a metered space for more than two hours after receiving an initial parking ticket.
— Consider establishing a parking credits district in the Center City area after the automated parking garage behind City Hall is finished. Currently the city has such a district on its Westside where new or expanding businesses can meet parking requirements by purchasing "credits" that are determined by a study of the actual availability of parking in an area.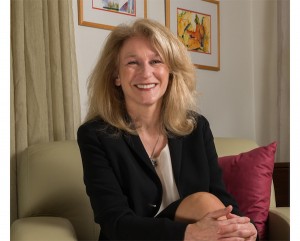 The proposal would immediately implement a fine of $157 on a driver who leaves an animal unattended in a car when the temperature is 70 degrees or more.  It also would authorize fines for parking on uphill streets only with a slope or grade of at least 7.5 percent. Such fines currently are levied on drivers parking on street with a grade of six percent or more who do not turn their wheels appropriately to reduce the chance their cars will roll away from the curb.
The proposal would effectively void an ordinance passed by the Council in 2013 that extended enforcement of parking meters in the city's busiest business districts by four hours until midnight on Mondays through Saturdays and to 8 p.m. on Sundays. Those extended hours applied to Santa Monica Boulevard from La Cienega west to Doheny and to Melrose Avenue east of La Cienega.
Meister's proposal would leave in place the current meter hours of 8 a.m. to 2 a.m. Mondays through Saturdays and 11 a.m. to 8 p.m. on Sundays on Sunset Boulevard and some of its side streets. The proposal also calls for parking meters to continue to be enforced from 8 a.m. to midnight Mondays through Saturdays and 11 a.m. to 8 p.m on Sundays in that part of WeHo bordered on the south by Beverly Boulevard, on the north by Melrose Avenue, on the east by La Cienega Boulevard and on the west by Doheny Drive. That area includes a substantial part of the city's Design District businesses
Other changes proposed by Meister include improving parking regulation signage and developing a mobile app for paying parking fees and finding parking lots.
The proposal also addresses the concerns of some residents that developers of new housing don't include enough parking in their projects. It asks that the city's Community Development Department present recommendations to the Planning Commission for possible changes in the number of parking spaces required for each housing unit in a new development.
Meister's proposal is likely to appeal to many residents, who frequently complain about the lack of parking and the cost of parking in West Hollywood. However it may find some resistance in the business community. The West Hollywood Chamber of Commerce has asked that consideration of Meister's proposal be delayed until it can get more input from its members and from city employees who administer the parking programs. The implementation of parking meter enforcement from 8 p.m. to midnight was designed to encourage turnover in parking meter spaces to make it easier people to find parking to shop or dine out in West Hollywood. West Hollywood's quarterly sales tax reports for last year showed large growth in revenue from restaurants and entertainment businesses, which could be attributed, at least in part, to the decision to extend parking meter hours (and thus parking turnover). Before the meter hours were extended, employees of some local bars and restaurants were able to park free on busy streets during their work hours rather than use nearby garages or parking lots.
Another concern is the impact of the change in parking fines and meter hours on the revenue they generate, which is used to cover the cost of administering the parking program. Also, $1 million of the $13.4 million budgeted as revenue from parking meter fees and fines is used to fund a "security ambassador" program that puts bike-riding security officers in highly trafficked areas such as Santa Monica Boulevard during busy times of the day and night. If the reduction is substantial, the city will have to reduce that public safety program or divert money from other programs covered by its general fund budget.
Meister contends that the extension of parking meter hours also has sparked a major increase in multiple-day parking passes, which residents can use to allow guests to park in their neighborhoods, making it more difficult for residents to find parking on their own streets.
"The City of West Hollywood has a strong and prosperous business community including a vibrant nightlife component that has attracted generations of people to enjoy all our city has to offer, " the proposal says. "Along with that has come a reputation as a place that has little available parking and a penchant for handing out overly expensive parking tickets for minor infractions by the tens of thousands. The effort outlined in this staff report is focused on changing the perception of West Hollywood as a place that balances its budget on the backs of our residents and nighttime visitors and realigns our values with the people that come to enjoy our city."