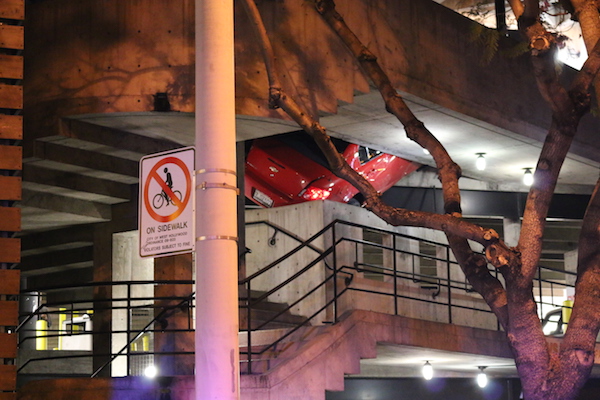 A driver working for the Uber taxi service escaped injury after his car was pushed over the side of the elevated parking lot at CVS in West Hollywood by another vehicle, authorities said today.
The accident occurred on the second level of a multi-story parking lot at the intersection of Santa Monica and La Cienega boulevards around 11 p.m. Thursday, Los Angeles County Sheriff's Department Lt. Vance Duffy said.
The SUV was driven by a seemingly homeless man who appeared to have fallen asleep, a news videographer reported from the scene.
The driver of the Uber vehicle was about to take four passengers aboard when it was struck and pushed over the side of an interior wall of the parking structure. He told the videographer that he was able to escape through a window in his vehicle.
Both vehicles were winched back to the parking lot. Duffy said no one was booked as a result of the accident.