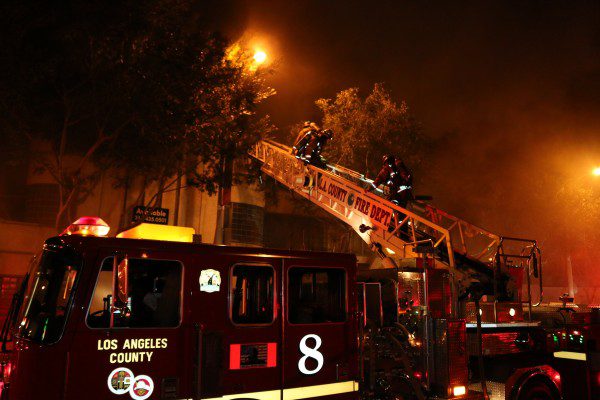 A man who may have been homeless died early this morning after being pulled out of a fire at the Streamline Moderne building at 9080 Santa Monica Blvd. known for having housed the Jones Dog & Cat Hospital.
The man was hospitalized at Cedars-Sinai Medical Center for smoke inhalation before his death, according to the Los Angeles County Fire Department. No other injuries were reported, said Supervising Fire Dispatcher
Ray Jones.
The two-alarm fire was reported just before midnight, and 150 firefighters were sent to the scene, Floor Supervisor Michael Pittman said. The fire was extinguished in about an hour, with county firefighters getting an assist from the Los Angeles Fire Department. L.A. County Sheriff's Deputy Kelvin Moody said homicide detectives were investigating the man's death. Early reports from City News Service and the L.A. County Sheriff's Department identified the fire as being on Melrose Avenue.
The building, now empty, was built in 1928. In 1938 it was renovated in the Streamline Moderne style by Wurdeman & Becket, one of whose principals, Welton Becket, designed the Capitol Records building and the Cinerama Dome.
The building is scheduled to be demolished for construction of the Melrose Triangle Project. The LA Conservancy has filed a lawsuit to stop the demolition of the building, arguing that the city failed to study alternatives that would have allowed the preservation of the building.
The West Hollywood Sheriff's Station warned of traffic delays early this morning around the site of the fire.