NIMBY is such an ugly word. To say that the focus of all opponents of new development is only that it be "not in my back yard" ignores legitimate concerns about the real issues that growth raises. In a city of only 1.9 square miles, a city whose population density ranks 16th in the nation, those issues include traffic congestion, the availability of parking and changes to the look and feel of some neighborhoods that West Hollywood residents call home.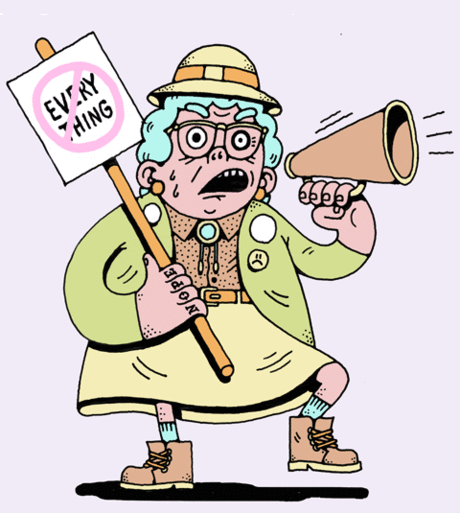 But while those issues deserve (and do get) consideration, the current debate over new housing in West Hollywood has collapsed into an ugly argument devoid of facts and full of emotion. It is an argument that risks serious damage to the reputation of West Hollywood, which was founded as an all-inclusive and affordable home for everyone.
Planning Commissioner John Altschul summed up the issue brilliantly on Thursday night during the contentious public hearing on a project on Ogden Drive. "The city has created a sensational community where people want to come," Altschul said. "The people that were here, they welcomed us when we came. Let's not be the kind of people that say 'We've got ours, let's close the doors'."
And yet certain City Council members, City Council candidates, and those residents who already "have theirs" are trying to "close the doors" to new residents and price out those with moderate or low incomes.
There is Councilmember John D'Amico, who at a recent Council meeting lamented the fact that the city has nearly 18,000 residents per square mile. "Our city is too dense by half. We have 18,000 residents per square mile. It is too much. It is just too much," he said. Given that West Hollywood, as noted by Councilmember John Duran, has always had that population density, we would ask John D'Amico why he moved here in the first place? And we would remind him that more housing will mean a drop in housing costs, opening up West Hollywood to a new generation, to West Hollywood 2.0.
D'Amico also is pushing for the city to allow developers to pay fees that can be used to build low- and moderate-income housing rather than require them to incorporate that housing in their condo and apartment projects. That's a not-so-subtle way to subvert the city's longstanding practice of integrating people of all income levels in new buildings rather than creating barriers between the rich and the poor. The "poor door" approach that segregates low-income people from building amenities available to their wealthy neighbors has been controversial in cities such as London, New York and Chicago. Do we want West Hollywood to be known segregating those people in "poor buildings" instead?
There is Cole Ettman, a candidate in the June 2 City Council election who, in a loud outburst at the Thursday Planning Commission meeting, proclaimed "the tide is turning" and that West Hollywood residents don't want more construction. We're guessing that the residents Ettman is listening to aren't renters but are affluent homeowners such as Bill Resnick, the Westside resident who is the son of a man who ranks No. 393 on Forbes magazine's list of the world's billionaires. Resnick has hosted a fundraiser for Ettman and contributed $40,000, the largest personal donation in WeHo's history, to help elect development opponent Lauren Meister to the City Council.
There is Heidi Shink, also a candidate in the June 2 Council race. As a Planning Commissioner, Shink voted for a new housing project on Kings Road only to quickly reverse herself when it became clear that she might get votes from its opponents. Shink, according to her recent campaign mailer, is "committed to stopping … the reckless development of the last 30 years." That "reckless" development increased West Hollywood's already strained housing stock by only 1.6 percent last year, according to a study by the state Department of Finance.
There is Cynthia Blatt, the leader of the opposition to the Kings Road project, whose campaign against it includes the argument that it will contribute to the drought and, amazingly, that West Hollywood doesn't need any more housing for low- and moderate-income people. Blatt should know that more residents, unless they are newly born babies, don't increase water usage. Thus more housing won't mean West Hollywood will face tighter restrictions by the state, which monitors usage in cities on a per capita basis not by number of residents.
And there are "the regulars," that handful of people who show up at to speak at every City Council meeting and most Planning Commission meetings to condemn almost all development projects. They include Cathy Blaivas and Stephanie Harker, who are to be admired for their campaign to preserve Great Hall / Long Hall in Plummer Park. But they must be questioned for taking stands against development that would, in effect, lock the doors to West Hollywood for newcomers.
A major problem West Hollywood faces in the upcoming City Council election and the housing development controversies that are sure to follow is that most of those engaged in the debates offer "facts" that simply aren't true. That's an approach the Republican Party has used successfully in its campaign against global warming, the Federal Reserve's efforts to stimulate the economy and gun control, to name a few. West Hollywood can, and should, do better than that.
An even bigger problem is that the renters and low-income residents who will be hurt by the actions of the anti-development crowd haven't organized to fight the "we've got ours, let's close the doors" mentality. Where are Larry Gross and his Coalition for Economic Survival, who successfully organized the community and fought such interests to help create West Hollywood as a city, when we need them?