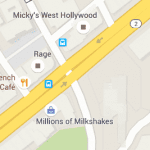 One and possibly two assaults occurred in West Hollywood over the Memorial Day weekend.
Lt. David Smith of the West Hollywood Sheriff's Station confirmed a report that four men, apparently intoxicated, confronted another man at the intersection of San Vicente and Santa Monica boulevards late Saturday night. One of the four men punched the other man in the face, Smith said, and he was taken to the hospital.
Another incident, which the Sheriff's Station couldn't confirm, involved a man getting involved in an argument at the intersection of Spaulding and Lexington avenues around midnight. According to a WEHOville reader three Hispanic men in their 20s approached another man and attempted to rob him, wielding a hammer. No further details are available.