Two gay men were assaulted in WeHo's Boystown district early Monday morning in the latest in what local residents claim are a series of attacks by young Hispanic men. The most recent complaint brings the total to two and possibly three assaults in the area last weekend.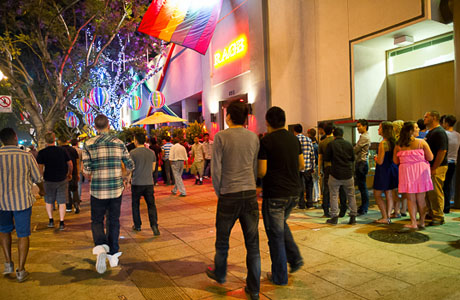 Jason Schirle said he and a friend had left Revolver Video Bar and were in front of the carwash on the 8700 block of Santa Monica Boulevard around 2:30 a.m. when he felt someone put his hand in his pocket.
"I was thinking it was a joke," Schirle said. "I turned around, and the minute I turned I was hit with a sucker punch. The next thing I knew there were two guys in front of me, one holding my arm down. The guy who had been hitting me began kicking me. The other guy went for my friend."
"A few hits to the face, a few kicks to the ribs. I missed a few days at work," Schirle said. "My friend got hit in the face pretty bad, but my impression is I got the worst of it." Schirle said his friend did not want to be identified.
Schirle said he walked to the West Hollywood Sheriff's Station to report the attack and was met with "ambivalence" by the desk clerk."I was kind of surprised I was met with a lot of ambivalence … I just kind of met with 'what are you all about?' 'Why didn't you call us?' I was kind of met with this attitude of I was doing something wrong."
Schirle said he had to wait for 30 minutes before a deputy would meet with him to take a report of the assault. He said that deputy, Christopher Landavazo, "was really accommodating, really nice. The guy was really professional, really patient." In addition to his work as a Sheriff's deputy, Landavazo was an unsuccessful candidate in the March election for West Hollywood City Council.
Schirle said that while he was waiting at the Sheriff's Station to report the assault two other men came in to inquire about a friend who they said also had been assaulted that night and left in the alley behind Rage, the gay bar at 8911 Santa Monica Blvd. near San Vicente. Schirle said a deputy told the men that they likely were referring to someone who had been taken to the hospital but whose identity the Sheriff's Department had not confirmed. In what may have been the same incident, Lt. David Smith of the West Hollywood Sheriff's Station confirmed to WEHOville earlier today that four Hispanic men who appeared to be gay and intoxicated assaulted a Caucasian gay man on the corner of Santa Monica and San Vicente. That man was taken to the hospital. Schirle said a deputy told those at the station that that man had been seriously injured and that a CAT scan had been performed on him.
Another incident reported by a reader but which the Sheriff's Station could not confirm involved an alleged altercation at the intersection of Spaulding and Lexington avenues around midnight on Memorial Day. The reader told WEHOville that three Hispanic men in their 20s approached another man and attempted to rob him, wielding a hammer.
Yet another incident occurred in December when two employees of Mickys, the West Hollywood gay bar and lounge, were assaulted early in the morning on Palm Avenue as they walked home from work. According to Sgt. Richard Bowman of the West Hollywood Sheriff's Station, four Hispanic men approached one of the young men in an apparent attempt to rob him. The other young man was stabbed when he intervened to try to help his friend. Area residents at the time said there had been several such attacks in the neighborhood.
Because of these incidents some local residents have called for changes in the way the city's nightlife areas are patrolled. Ben Coleman, a public safety activist who manages the Keep WeHo Safe Facebook page, has noted that generally there are no more than two deputies on foot patrol in the Santa Monica Boulevard nightlife district between 8 p.m. and 3 a.m. on Friday and Saturday nights. While West Hollywood is the smallest and most densely populated city in California, the L.A. County Sheriff's Department deputies who provide police services to the city generally patrol in cars rather walk than on the sidewalks. Coleman also has noted that deputies generally return to the Sheriff's Station by 2 a.m. to file reports, meaning they aren't on the street when bars in the area close and empty their intoxicated patrons on the street.
While the city's Public Safety Department promotes WeHo as a safe place to visit, live and work, the L.A. County Sheriff's Department has reported that the city's rate of violent and property crimes last year was the highest of any of the 23 areas it patrols. The rate was 98 percent higher than that of the department's South Los Angeles Station and 38 percent higher than that of its Compton Station.
It is difficult to chronicle crime in West Hollywood. While the city's Public Safety Director alerts City Council members daily to crimes in the city, the city refuses to provide that information to the media unless it is requested under California's Freedom of Information Act, at which point it is provided as much as 10 business days later. The local Sheriff's Station does provide a monthly report to the city's Public Safety Commission. However that report is not posted online as are other reports provided to bodies such as the Planning Commission and the Design Review Subcommittee so that it can be reviewed in advance by the public. Public Safety Commission members tbemselves generally do not see the report until they arrive at their monthly meeting.