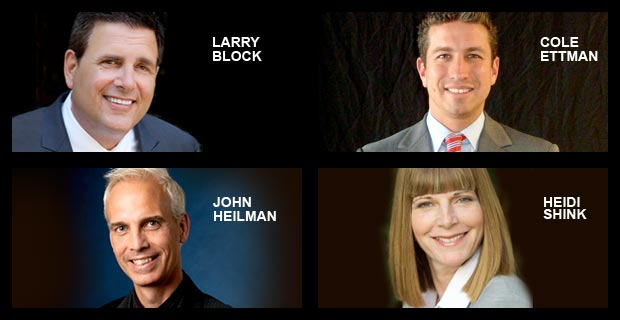 The latest round of City Council campaign finance reports indicate the seat up for grabs in Tuesday's WeHo City Council election may be the most expensive in the city's history. Money raised for the four candidates' campaigns, including loans to themselves, totals $496,666.
The latest reports, which cover the period through May 15, show that John Heilman has stepped up his campaign fundraising efforts. Whereas last year he had raised only half as much money as had competitor Heidi Shink, since January he has raised $71,247, almost twice the $38,624 raised by Shink.
Cole Ettman has raised $22,250 from Jan. 1 through the May 15 deadline for this latest round of campaign finance reports. And Larry Block has raised $4,703.  Block has alleged that Ettman offered him $20,000 to withdraw from the race, arguing that his candidacy was splitting votes that needed to go to one of the competitors to Heilman, a 30-year Council veteran who is seen as man to beat by the three challengers.
Total money raised both last year and through May 15 this year amounts to $89,421 for Heilman, $70,723 for Shink, $37,517 for Ettman and $7,901 for Block. Each of the candidates also has made a loan to himself or herself. The biggest is the $50,000 Ettman loaned his campaign. Shink has loaned hers $20,200. Block has loaned his campaign $20,000, and Heilman has loaned his campaign $10,100.  Money spent in the March 3 general election for three Council seats, for which 12 people competed, was only a little more than $200,000 a seat.
In addition to the loans to themselves, two of the candidates have significant outstanding bills. In Ettman's case they total $18,283. Shink's campaign owes $15,977. Neither Block nor Heilman report outstanding bills.
Heilman's campaign has been bolstered by donations from WeHo United for John Heilman 2015, an independent expenditure committee, which has raised $140,000 as of May 15 to campaign for his re-election. By law that committee cannot coordinate its efforts with Heilman's campaign. Shink has been the beneficiary of $50,792 raised by West Hollywood Properties, another independent donor. Most of the donors to the Heilman independent expenditure committee are real estate interests, with the largest of those being Townscape Management. Townscape, the developer of controversial projects at 8899 Beverly Blvd. and 8150 Sunset Blvd., has donated a total of $35,012 to WeHo United. Shink's biggest supporter is West Hollywood Development, a billboard company owned by Brian and Drake Kennedy that has been involved in several legal battles in efforts to block billboard competitors on the Sunset Strip. West Hollywood Development has spent $50,792 to promote Shink.