In a decision to grant Larry Block reimbursement for attorney's fees an L.A. Superior Court judge has cast doubt on key elements of a lawsuit in which Block was accused of illegally evicting a tenant.
Judge John Segal yesterday issued a tentative decision granting Block reimbursement of $10,626 in fees he has spent to defend himself in a lawsuit by James W. Snyder, who bills himself as Jimmy Jimmy Coco, a celebrity spray tanner. Segal is expected to decide whether to make his decision final within a week.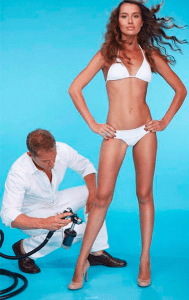 Segal ruled in favor of a motion filed by Block's lawyer that alleged Snyder's suit was a "strategic lawsuit against public participation." That is a legal term for a lawsuit that " lacks any basis of genuine substance, legal underpinnings, evidence, or prospect of success." Lawsuits challenged on those grounds typically are those in which a plaintiff alleges a violation of law or misconduct in an effort to intimidate a defendant with the prospect of having to pay high legal costs to defend himself.
In Segal's ruling he rejected Snyder's allegation that Block had illegally evicted him, that he had asked Snyder to move out as retaliation or that Block had violated the law by threatening to evict Snyder.
In his lawsuit, Snyder alleged that Block had illegally converted the garage behind his house into a bedroom, leased it to Snyder, and then evicted him in a dispute over several issues, including Snyder's theft of Block's parking pass. Block has said he only intended to rent the space to Snyder to store his belongings while he travelled to apply spray tans to celebrities such as Ariana Grande, the singer and actor.
Block, who is one of four candidate's in Tuesday's special election for a West Hollywood City Council seat, has alleged the lawsuit is politically motivated. Neal Zaslavsky, the lawyer representing Snyder, sent copies of the suit to opponents of Block such as West Hollywood City Council members John D'Amico and John Duran before the suit actually was served on Block.
The lawsuit mentions Block's City Council candidacy numerous times. In one instance Zaslavsky writes: "Troublingly, while this type of behavior from any landlord would be repugnant to law, public policy, and common decency, it is particularly shocking in light of Block's current aspirations. Indeed, at all times relevant herein, Block has been an announced candidate for the West Hollywood City Council, and has included tenants' rights issues as part of his platform. When viewed in this light, Block's conduct is simply shameful."
And in another instance, alluding to Block's attempt to evict Snyder for the alleged theft of a parking pass, Zaslavsky writes: "Perhaps Larry Block invented his tall tale about 'theft' in the hopes of discrediting Mr. Snyder so that if the truth about all of Larry Block's conduct ever came to light – behavior which was so vile and shocking that it not only ran afoul of well-established law in California, but if discovered, would most certainly have a negative impact on Larry Block's chances of being elected to the City Council (the italics provided by Zaslavsky) – Larry Block would have a campaign-ready excuse to whitewash and spin his own malfeasance. Unfortunately for Larry Block, when you try to use the strong arm of the law to silence your potential adversaries, the truth usually manages to come out anyway. Cover-ups are rarely successful in the long term."
"There is no merit whatsoever in Jimmy's claims against me, and in fact, Jimmy owes me money," Block said in response to the judge's decision. His lawyer said Block expects to file a formal response to Snyder's remaining claims by June 4 and is considering filing a cross-complaint against Snyder for damages and monies owed.